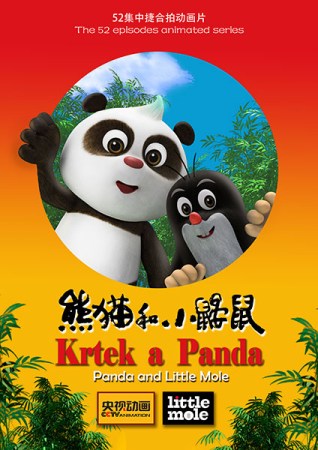 A poster for Little Mole and Panda, which is slated to air in China from Monday. CHINA DAILY
By paying a landmark state visit to the Czech Republic, Chinese President Xi Jinping not only makes himself the first Chinese head of state to visit the country in 67 years, but also gives new impetus to the already geared-up China-Czech Republic ties.[Special coverage]
The China-Czech Republic ties, dubbed by some Chinese netizens as "Panda-Krtek friendship", have been developing on a fast track in recent years, with China being the Czech Republic's largest trading partner outside the European Union (EU) and the Czech Republic China's second largest trading partner in Central and Eastern Europe (CEE) for many years in a row.
On the political front, Xi and Czech President Milos Zeman have met four times in a short span of two years. At the end of 2015, the Chinese and Czech governments signed a memorandum of understanding (MOU) on jointly promoting the initiative on the construction of the Silk Road Economic Belt and the 21st Century Maritime Silk Road, which creates even wider prospects for bilateral exchange and cooperation in all fields.
Coming amid those boons and good signs, Xi's visit is set to bring billions of U.S. dollars into the Czech Republic's nuclear, banking and scientific-technological research sectors, which means creation of more jobs and development of greater socioeconomic vigor and vitality for the manufacture-based economy.
Besides investment, Xi's visit would also help the Czech Republic attract more Chinese tourists, the number of which reached 300,000 in 2015, making tourism a highlight in the development of China-Czech Republic relations.
In addition, Xi's visit would also provide top-level design for coordinating development strategies pursued by China and the Czech Republic, and tap the potential of bilateral cooperation in a better way, so as to prepare the ground for launching more cooperation projects for greater harvest.
The current China-Czech Republic amity stems from a strong basis of deep-rooted friendship, political good-will and popular support, which also serves as solid foundation for China-CEE relations and China-EU ties.
Since the first leaders' meeting in Warsaw in 2012, China and 16 CEE countries have made great strides in pushing forward win-win cooperation.
The Czech Republic has actively supported and participated in China-CEE cooperation, demonstrating its important role by spearheading health cooperation and cooperation at sub-national levels.
Chinese President Xi Jinping (R) meets with Czech President Milos Zeman in Beijing, capital of China, Sept. 4, 2015. (Xinhua/Yao Dawei)
Given the Czech Republic's important role in China-CEE cooperation, a warmer and fruitful relationship between Beijing and Prague would generate a profound demonstrative effect to China-CEE cooperation, with more countries wishing to share China's development dividends for common prosperity.
For the EU, which currently is battling with a fragile economic recovery and an unprecedented refugee crisis, a prosper and stable CEE area would be a catalyst for its cohesion, as most CEE countries are plagued by sluggish economic development and a lack of development experience, and are in imperative need of investment to promote their economic growth.
Within such a context, China's involvement in development of the CEE area, with Xi's visit as a fresh impetus, will be a boon instead of woe for the entire continent. In fact, the EU integration has never posed a problem to China, as it has repeatedly renewed its support for a united Union.
Just like what Xi has suggested in his signed article published on the Czech Republic's Pravo Daily newspaper on Saturday, China and the EU should strengthen their cooperation for a better future and work for new progress in their comprehensive strategic partnership. Therefore, Xi's visit will be a sincere and welcoming step in the right direction.