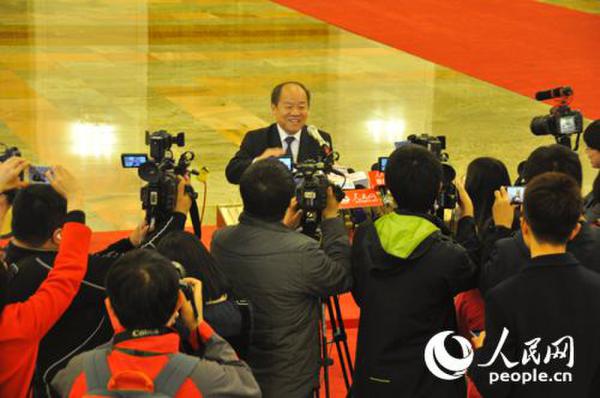 Ning Jizhe, head of the National Bureau of Statistics of China
China's supply-side structural reform has scored positive results, Ning Jizhe, head of the National Bureau of Statistics of China (NBS) told reporters on Monday, citing optimized industrial, investment and consumption structures. [Special coverage]
A new economy led by information technology and high-tech industry is just around the corner, said Ning, referencing the thrilling match between South Korean Go master Lee Se-dol and the artificial intelligence AlphaGo as he said that Chinese robot output has already increased by 17 percent in the first two months of this year.
He noted that the output of new energy vehicles also doubled in that same period. At the same time, the production of crude steel dropped by 5.7 percent and output of nonferrous metal also declined by 4.3 percent.
Ning, also a deputy director of the National Development and Reform Commission, pointed out that the data indicated that China's economy underwent stable growth in January and February, citing the stable fundamentals in employment, domestic demands and commodity prices.
In the first two months of the year, the registered unemployment rate in 31 major cities stood at about 5.1 percent, lower than that of the same period in last year, said Ning. Fixed-asset investment was up 10.2 percent from a year earlier.
Retail sales, used as a measure of domestic consumption, maintained steady growth of 10.2 percent in the same period, implying that China's economy now relies more on domestic demands.
The country's industrial, investment and consumption structures have been optimized, according to the NBS head.
He said that the Consumer Price Index (CPI), a main gauge of inflation, increased by 1.8 percent year-on-year in January and by 2.3 percent in the following month, which still falls short of the goal to "keep the increase in CPI at around 3 percent" set in this year's government work report. Commodity prices demonstrated a stable rise without large fluctuations.
Though industrial growth slowed, growth in the service industry was rapid. It accounted for more than 50 percent of total GDP, further optimizing the economic structure, Ning said.
Hailing a better investment structure, Ning said that China has invested more in the high-tech and infrastructural sectors but less in energy-intensive industries.
Income from tourism saw double-digit growth during the Spring Festival holidays, witnessing a drop in banquet and tourism at the public's expense but an increase in mass catering and tourism, Ning said, adding that in the first two months, income from the catering sector also soared 11.3 percent from a year earlier.