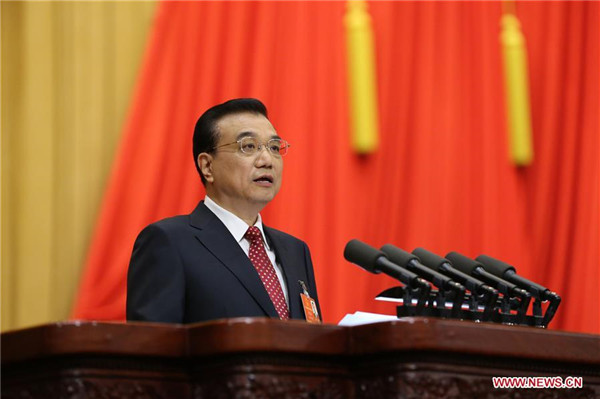 Chinese Premier Li Keqiang delivers a government work report during the opening meeting of the fourth session of the 12th National People's Congress at the Great Hall of the People in Beijing, capital of China, March 5, 2016. (Xinhua/Liu Weibing)
The Government Work Report, delivered by Premier Li Keqiang on Saturday to the top legislature, confirmed that economic growth remains the government's key objective. It emphasized the objective of doubling the 2010 GDP and per capita personal income levels by 2020 and called for average annual GDP growth of at least 6.5 percent over the next five years. Accordingly, the target for 2016 was set at 6.5-7 percent, down from about 7 percent for 2015. [Special Coverage]
Painful reforms such as shutting down unprofitable State-owned enterprises are easier amid solid growth. But 6.5 percent is an ambitious growth target that will require significant macroeconomic policy stimulus, given the subdued prospects for organic growth drivers such as exports and private investment. It may detract from pursuing the more painful, yet necessary, reforms and reduce the appetite for reining in credit growth and reducing excess capacity. This is a pity because growth of around 6 percent is sufficient.
In any case, macroeconomic policy will be used to support growth, including issuance of special local government bonds and use of some fiscal savings from recent years.
In addition, quasi-fiscal activity will remain large. Notwithstanding efforts to rein in borrowing by local government investment platforms, with infrastructure spending remaining a key policy lever to support growth, new channels for financing have been created, including via rebranded local government investment platforms, policy banks and public-private partnerships largely involving SOEs.
In the monetary sphere, the target, or forecast, for M2 growth is raised from 12 percent in 2015 to 13 percent this year. The forecast for the expansion of total social financing is also 13 percent. This implies, including the expansion of local government bonds via the bond swaps, an increase of 16 percentage points in the ratio of total social financing to GDP this year, raising it to 225 percent.
The government also plans to take further measures to boost the property market and counts on boosting consumption by stimulating "new" urbanization through granting urban residency and public services to more migrants from rural areas.
But the Government Work Report also stresses that China still has "vast scope for growth in effective investment", especially in infrastructure and industry upgrading. This year major projects will be launched under the 13th Five-Year Plan (2016-20) on railways, roads and water conservation.
The discussion of reforms suggests a cautious approach on this front. But the government rightly stresses the need for progress in "new" urbanization-enabling migrants to live and spend as full urban citizens, which requires access to public services in urban areas. The aim is that by 2020 urban residents comprise 60 percent of the population, up from 55 percent in 2015, and that 45 percent of the total population is registered as permanent urban residents.
This can only be accomplished if reforms take place in the intergovernmental fiscal system to enable local governments to provide public services to newly urbanized migrants. The government is taking some steps in this regard. In 2016 it plans to boost the sources of local government revenues by handing over to local governments suitable taxes. But substantially more is needed on this front.
The discussion of "supply side reform" focuses on streamlining administration and cutting red tape, boosting innovation, cutting overcapacity in sectors such as steel and coal mining, upgrading manufacturing, SOE reform, and stimulating private business by means such as removing barriers to private sector involvement in sectors such as electricity, telecommunications, transport, petroleum, natural gas and utilities.
Regarding cutting overcapacity, the government commits to addressing the issue of "zombie enterprises". However, it has tempered expectations about the intensity of these efforts by noting that this will be done "proactively yet prudently". While prudence is in principle understandable, in the context of the ambitious GDP growth targets, progress in this area, which is crucial for both China and the rest of the world, may be compromised. Indeed, the specific plans in the steel sector, cutting between 100-150 million tons of capacity in the next five years, 10-15 percent, are modest, given the extent of structural overcapacity there.
On SOE reform, the stated emphasis is "to promote their development", "upgrade" them and "improve their performance". Structural adjustments are meant to include reorganization, mergers and exits, while pilots will start this year with regard to executive recruitment, mixed ownership and employee equity stakes. Going back to the levelling of the playing field between SOEs and other companies that should be a key priority, the relaxation of restrictions on entry by private companies in markets previously preserved for SOEs is welcome. However, the approach with regard to SOE reform seems otherwise cautious.
The author Louis Kuijs is head of Asia economics at Oxford Economics.