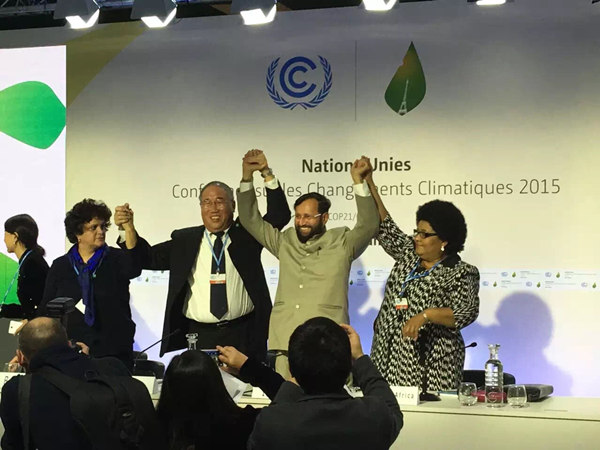 Ministers from the BRICS countries hosted a joint press conference on Tuesday to show solidarity in pushing forward an ambitious and balanced Paris deal. Lan Lan / China Daily
China is not blocking the progress of the United Nations climate talks in Paris, but instead is striving to play a constructive role in the negotiations' crunch time to come up with constructive proposals for a successful outcome, a Chinese climate expert said.
China has positioned itself to play "a bridging role" between developing and developed countries in the climate talks, but that doesn't mean it is in a middle place between developing and developed countries, said Li Junfeng, the director general of climate change strategy at the National Development and Reform Commission.
US Secretary of State John Kerry said on Wednesday in Paris that the United States had joined a "high-ambition coalition" that was unveiled the previous day and is made up of about 100 countries, as well as the European Union. The group demands that the final deal recognize the proposed 1.5 C goal, which calls for limiting the global temperature's rise to 1.5 C compared with the pre-industrial era.
"China and India haven't received an invitation to join the coalition, but not being part of the coalition doesn't mean China is blocking the progress, " Li told China Daily on Thursday.
"Adopting a new approach may result in hollow ambition, which might hinder pragmatic action and drag the progress of the negotiations, contrary to our expectations," said Li.
The division between developed and developing countries should not be blurred, since the historical responsibilities between developed and developing countries haven't changed, Li added.
Xie Zhenhua, China's special representative for climate change, said last week that China will continue to play a bridging role between developing and developed countries during the ongoing talks in Paris. This role will enable it to seek "landing zones" — wording that is mutually agreeable to all parties — for the thorniest issues under a multilateral approach, he said.
Li said: "As the largest developing country and the largest developed country, China and the US have obligations to exchange views representing developing countries and developed countries, However, this doesn't mean China is in a middle place between developing countries and developed countries."
France introduced a new draft text on Wednesday, but significant differences in opinion remained as the conference, scheduled to end on Friday, entered its final stage.
The latest draft is "open and balanced", which is a starting point for further discussion, Xie said, but more "landing zones" need to be found. Opinions still diverged on three fundamental issues: differentiation, financing and ambition, Xie said.
A lofty goal to limit a rise in global temperature is meaningless until there is a clear plan for how the world can achieve it, said Professor Teng Fei at Tsinghua University. "Even worse, it could lead to inadequate adaptation."
Some observers said that even the 2 C goal would require all parties to accelerate their efforts.
The global economy needs to cut carbon intensity — total emissions of carbon dioxide divided by gross world product —by 6.3 percent a year from now until 2100 to prevent global warming in excess of 2 C, according to PricewaterhouseCoopers' 2015 low-carbon economy index.