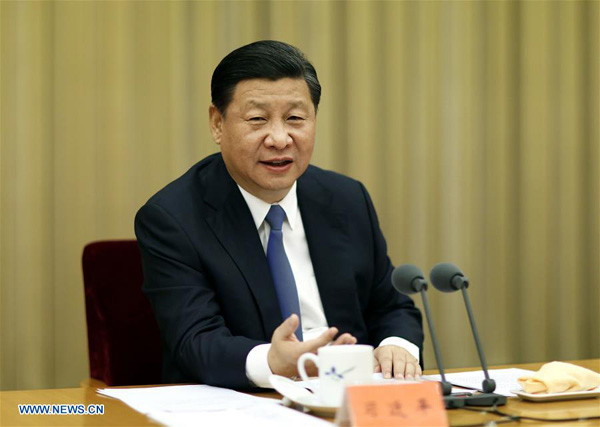 Chinese President Xi Jinping speaks in a meeting on poverty relief in Beijing, capital of China. (Photo/Xinhua)
The importance of lifting more than 70 million impoverished people out of poverty can never be overestimated, neither should the difficulties the country faces in achieving that goal in the next five years.
That explains why President Xi Jinping emphasized that the exact number of poverty-stricken people must be made clear and so must the reasons why they are living in destitute conditions. Xi made the remarks at a meeting on poverty alleviation at the weekend.
Xi said that local governments and Party committees must place poverty alleviation at the top of their work agenda, and how this job is done will be the most important yardstick for gauging the performance of local leaders. The president also required that local leaders make a pledge to fulfill this task.
It is not just because lifting everyone out of poverty is necessary if China is to reach the goal of building a better-off society by the year 2020. It is also because the ruling Party considers this its inescapable responsibility.
But helping the more than 70 million shake off poverty will be much harder than the lifting of 700 million out of their impoverished conditions that has been achieved in the past more than three decades, since those still living in destitution are either stranded in rural areas that are hard to reach or endure difficulties that they cannot overcome on their own.
However, local leaders, those at the lowest level in particular, must develop the awareness that their job is not just to give the money for poverty alleviation to those in need, rather they need to take the initiative in working out practical measures to help those in poverty escape it through their own efforts where possible. So it is imperative on-the-spot investigations are conducted and then specific policies or measures implemented that enable those who can to help themselves.
It has not been uncommon for some local officials to embezzle the funds earmarked for poverty alleviation. So how to use such funds in a more efficient manner and prevent the money from being stolen, misappropriated or wasted is a key task in ensuring the goal of eliminating poverty is attained.
Now what we expect is a mechanism that can be established for the most efficient use of all resources in poverty alleviation. To a large extent, such a task will put to the test local leaders' wisdom and competence, and their political awareness that it is their responsibility and duty to solve this problem.