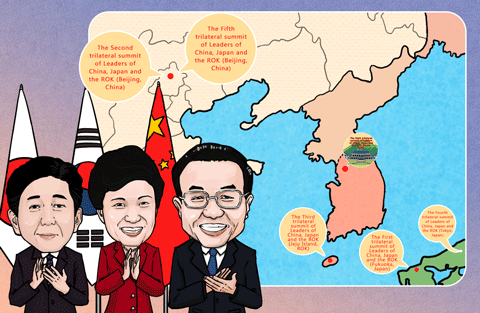 Premier Li's ROK visit
Comments by Xu Xiujun, associate researcher with the Institute of World Economy and Politics at the Chinese Academy of Social Sciences; comics drawn by Wang Dongjie
On November 1, Chinese Premier Li Keqiang attended the 6th trilateral summit - China, Japan and the ROK in Seoul, South Korea. He proposed six initiatives: [Special coverage]
First, to raise political mutual trust and maintain regional peace and stability. Second, to play their respective comparative advantages and to carry out international cooperation capacity.
Third, to promote economic integration in East Asia and maintain regional financial stability. Fourth, to promote structural reforms and strengthen cooperation with innovations.
Fifth, to strengthen cooperation for sustainable development. Sixth, to promote social and cultural exchanges and enhance awareness of the East Asia community.
The mechanism of trilateral leaders' summit restarts three years later, which has drawn much attention from the world. China, Japan and South Korea belong to the same cultural sphere of East Asia.
The willingness of civil exchanges and pragmatic cooperation is strong. To restart the trilateral meeting reveals that seeking of win-win cooperation remains the mainstream of East Asia, and embodies real demand for deepening cooperation.
Premier Li's initiatives point to the right direction for trilateral cooperation. Maintaining peace is the correct manner. Only when facing up to history can we look forward to the future.
Beijing hopes Tokyo can abide by peaceful development. China, Japan and the ROK should take this trilateral summit as an opportunity to restart cooperation in various fields.
World opinions hope to see a deepening of cooperation for the three countries to achieve stronger economic growth in the region. The summit is a blessing for East Asia, and the world as well.
( The opinions expressed here do not necessarily reflect the opinions of Panview or CCTV.com. )