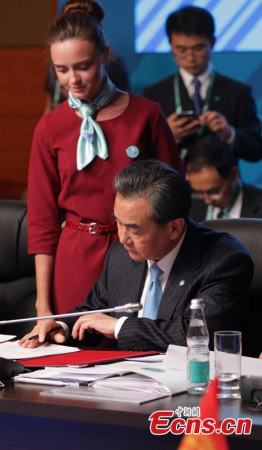 China's Foreign Minister Wang Yi at an agreements signing ceremony at a meeting of the Council of Foreign Ministers of the Shanghai Cooperation Organisation (SCO) member states, Moscow, Russia. June 3, 2015. (CNS photo/ Wang Xiujun)
China and Russia Wednesday reiterated their opposition to any attempts to distort history or whitewash fascism and militaristic aggressions during World War II.
During a meeting of the Shanghai Cooperation Organization (SCO) Council of Foreign Ministers in Moscow, Chinese Foreign Minister Wang Yi called on the bloc members to remember history, commemorate martyrs, cherish peace and work together to create a better future while jointly celebrating the 70th anniversary of the victory of the World Anti-Fascist War.
Wang also called on all the bloc members to firmly oppose words and actions that try to distort history and beautify aggressions during World War II.
While meeting Wang and other foreign ministers of the bloc at the Kremlin, Russian President Vladimir Putin said the international community needs to have a better understanding about the enormous national sacrifice the Chinese people had made in their fight against foreign aggressions.
Putin stressed that it must not be forgotten that the militarism had wreaked havoc in China and across Asia, saying it is the common responsibility of all peace-loving countries to avoid the repeat of such tragedies.
Countries around the world should firmly oppose the attempts made by some forces currently to try to deny and glorify fascism and militarism, Putin added.
Also on Wednesday, Wang stressed the importance of continuing to unite SCO as one and strengthening the bloc, saying that doing so conforms with every member's practical needs for development and rejuvenation, meets the trend of regional integration and is conducive to attaining long-term objectives of regional stability and prosperity.
During the meeting, Wang also called for planning of SCO's orientation and preparation for the organization's enlargement, extending more support for each other and working together to safeguard core interests, solidifying and expanding security cooperation to combat threats, as well as improving pragmatic cooperation to boost economic and trade cooperation.
Putin said that the SCO is gaining more and more importance as a dozen new countries have shown interest in cooperation.
"Other countries would like to strengthen their contacts with our organization. This is natural as it gains more weight and importance because it addresses the most important questions for our nations and for the region as a whole," said Putin.
"Our partners from 12 countries are showing interest in its work, apart from the current members of the organization," Putin said.
Putin said the realization of two big projects -- the Silk Road initiative and the Eurasian Economic Union -- was in the interest of SCO members.
He expressed hope that participants of the foreign ministers' meeting in Moscow would support and help the projects.
During Chinese President Xi Jinping's visit to Moscow last month, China and Russia signed a joint statement on integrating China's Silk Road Economic Belt initiative with Russia's aspiration under the Eurasian Economic Union framework.
They pledged to maintain a continuous and stable economic growth in the region, strengthen regional economic integration, and safeguard peace and stability on the Eurasian landmass.
Founded in 2001, the SCO has China, Kazakhstan, Kyrgyzstan, Russia, Tajikistan and Uzbekistan as its full members, with Afghanistan, India, Iran, Mongolia and Pakistan as observers and Belarus, Turkey and Sri Lanka as dialogue partners.
Russia holds the rotating presidency of the SCO in 2015, with a summit to be held in Ufa, the capital of the Republic of Bashkortostan, Russia, in July.