Yang Jiechi meets Myanmar's VP on stronger ties
2013-06-24 09:51
Xinhua
Web Editor: Mo Hong'e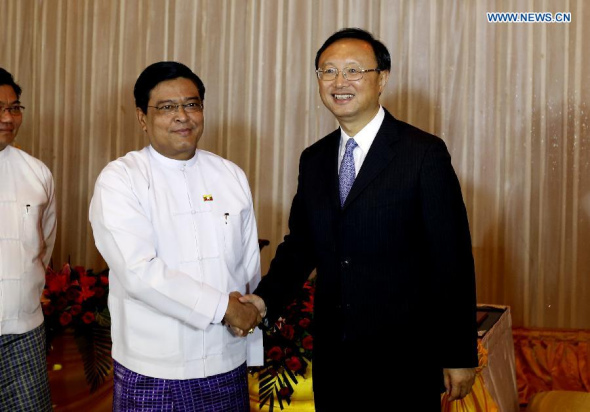 Myanmar Vice President U Nyan Tun (L) meets with visiting Chinese State Councilor Yang Jiechi in Nay Pyi Taw, Myanmar, June 23, 2013. Yang Jiechi arrived in Myanmar Sunday for a two-day visit. (Xinhua/U Aung)
Visiting Chinese State Councilor Yang Jiechi had talks with Myanmar's Vice President U Nyan Tun in Nay Pyi Taw Sunday.
Yang pointed out that China and Myanmar possess a broad range of common strategic interest as the two countries share a long boundary and their security, stability and development are closely linked with each other.
Under the new situation, maintenance of long term, steady, and healthy development of China-Myanmar bilateral ties conforms to the fundamental interest of the two countries and the two peoples, he said.
The Chinese side would unshakably push the bilateral friendship, respect Myanmar's sovereignty and territorial integrity and support Myanmar to pursue a path of development that conforms to its status, he noted, adding that China, along with Myanmar, would implement the important common consent reached between the heads of state of the two countries and strengthen neighborly and friendly cooperation to enable that the two countries could ever be good neighbors, good friends, good brothers and good partners.
Yang stressed the maintenance of reciprocal visits at high level and to boost mutual benefit strategically.
Citing that on the occasion of the 60th anniversary of the Five Principles of Peaceful Coexistence next year, which was jointly advocated by China, Myanmar and India, Yang proposed the three initiators to hold commemorative activities to develop the important and fundamental principles of international relations.
He also called for proper implementation of the action plan of China-Myanmar Comprehensive Strategic Cooperation Partnership, deepening the practical cooperation, ensuring smooth implementation of major cooperation projects and realizing mutually beneficial win-win status to benefit local people.
He hoped the two sides would firmly grasp and implement the agricultural project with macrofinance loan provided by the Chinese side to play an active role in rural development and poverty alleviation, saying that the Chinese side wishes to study the matter of increasing import of Myanmar agricultural produces.
Yang called for enhancing cooperation in people's livelihood and humanities sector, expressing China's willingness to continue to offer help as much as possible for Myanmar's socio-economic development, citing such construction project as comprehensive hospital.
He vowed China's support of launching friendly exchange between non-governmental organizations and media circles of the two countries to boost mutual understanding and friendship of the two peoples as well as Myanmar's hosting of the upcoming Southeast Asian Games.
Yang urged close coordination in sectoral cooperation, saying that as Myanmar will be alternate chair of the Association of Southeast Asian Nations (ASEAN), China would help Myanmar to hold the event well in consonance to jointly push China-ASEAN ties.
With regard to the issue of Myanmar's northern part, Yang stressed that China supports the reconciliation process with Myanmar nationalities, hoping that the Myanmar government and the Kachin side could maintain the trend of peace talks and reach ceasefire agreement as early as possible. In this regard, China would continue to play a constructive role.
On the occasion, U Nyan Tun spoke highly of China's policy of mutual respect and non-interference of each other's internal affairs, thanking China's offer of valuable support and assistance ever since.
He recalled that Myanmar always supported China whenever major issue that linked with China's core interest arose.
He said Myanmar side agreed with China's proposal to hold the commemorative anniversary activities of the Five Principles for Peaceful Coexistence.
He assured that Myanmar side would join with China to properly implement the action plan of Comprehensive Strategic Cooperation Partnership, while ensuring bilateral exchange and enhancing cooperation in economic and trade sectors.
He voiced Myanmar's welcome of investment from China, promising to create good investment environment and ensure the smooth launching of the two countries' cooperation projects.
He added that Myanmar would push the peace process in the country to realize peace in the north as early as possible to ensure tranquility of the two countries' border areas.
Following the talks, an action plan of China-Myanmar Comprehensive Strategic Cooperation Partnership was signed.
On the same day, Yang also met with Speaker of the House of Representatives U Shwe Mann. Yang elaborated China's stance and suggestion over the two countries' bilateral ties, calling for exchange between legislative bodies of the two countries.
U Shwe Mann vowed that Myanmar's parliament would play an active role in pushing the two countries friendly and cooperative ties.
Yang arrived the Myanmar capital earlier on Sunday for a two- day visit at the government of Myanmar.