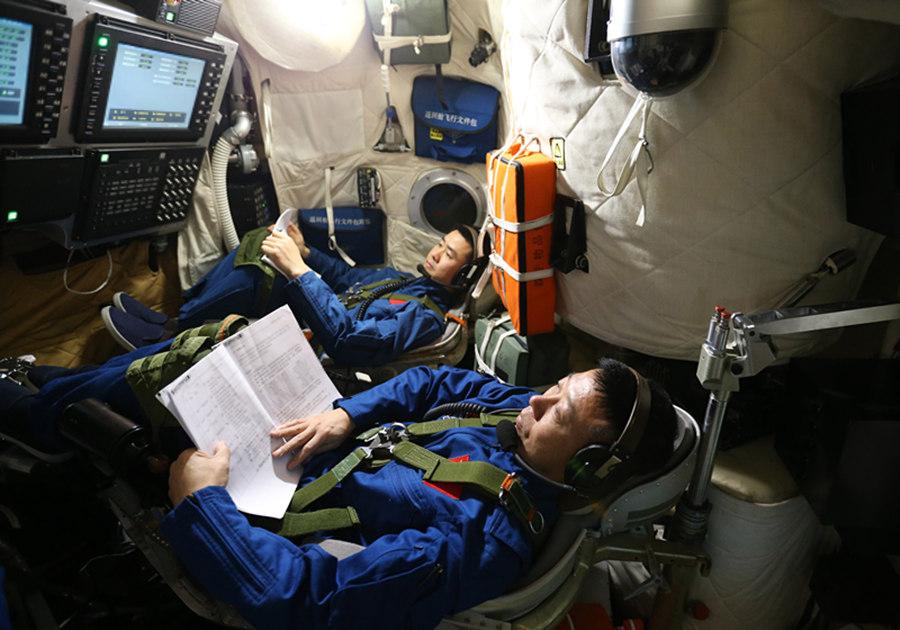 Chen Dong and Liu Wang train for a mission. (Feng Yongbin/China Daily)
Unforgettable memories
Looking back at these and other experiences, the astronauts said their struggles, sacrifices and persistence were all worthwhile.
Liu Wang, who took part in the 2012 Shenzhou IX/Tiangong I mission, said it was awe-inspiring and unforgettable to observe the Earth and the universe from space.
"I saw the lights of cities on Earth and lightning ripping through the night sky. From our orbit I saw the darkness and emptiness of space and I wondered where the boundary is between the sky and the stars," he said. "I will never forget those scenes."
Wang Yaping, the female astronaut who delivered a science lecture to students from the Tiangong I space lab, said she felt humbled by the number of boys and girls who wrote to her upon her return.
"They said my colleagues and I had inspired them to explore the universe and they would try their best to become astronauts," she said. "I would never have imagined that my teaching could spark so many dreams and aspirations"
In July, President Xi Jinping, who is also chairman of the Central Military Commission, conferred a first-class military decoration on the PLA Astronaut Group, and also awarded an August 1 Medal, the highest honor given to individual members of the Chinese military, to Jing Haipeng, who has taken part in three missions, including the Shenzhou XI/Tiangong II expedition in late 2016, which lasted 33 days.
Jing was both pleased and modest when he received the medal. "Of course, the honor and glory belong not only to us, but also to tens of thousands of scientists, engineers and workers from more than 3,000 institutes, universities and enterprises who have played a role in the nation's manned space programs and contributed to sending us into space," he said.
Prev Button
Next Button