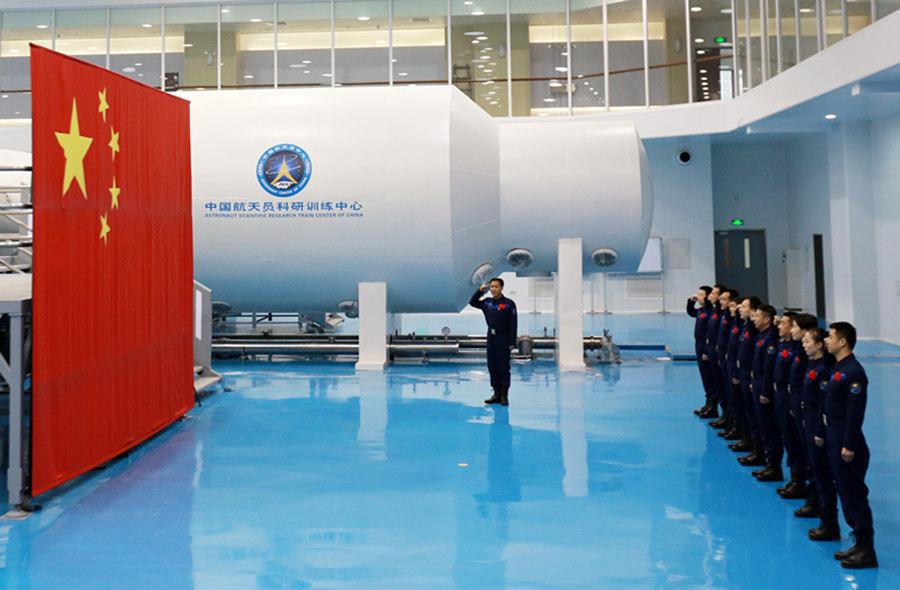 Astronauts repeat their oaths at the Astronaut Center of China in Beijing on Jan 4. (Feng Yongbin/China Daily)
Perseverance and devotion
Away from the glamour, though, the nation's astronauts endure countless rounds of training, tests and drills, shedding sweat and owing an enormous debt to their families.
"Once a pilot is admitted to the astronaut team, they must immerse themselves in more than 30 subjects, including physics, astronautics and astronomy. Normally, university courses in each of these subjects last four years, but our astronauts have just one year to complete their studies and they must pass exams about every topic," said Li Xinke, Party chief at the Astronaut Center of China.
"During training to simulate weightlessness, astronauts wear suits that weigh 160 kilograms and stay underwater for about four hours. They lose an average 2 kg during each training session and after a session they are so exhausted that they are unable to hold chopsticks," he added.
During centrifuge training, the astronauts endure gravitational acceleration as much as eight times their own weight so they will be able to resist the g-forces during liftoff that severely restrict the ability to breathe.
"In the past 20 years, none of our astronauts has pressed the emergency button to halt the program. They all persisted," Li said.
The astronauts have also overcome hardships and difficulties during missions.
Yang Liwei recalled being in Shenzhou V atop a Long March 2F rocket ascending toward the sky, when a low-frequency oscillation made his internal organs vibrate violently, inflicting almost unbearable pain. He said he gritted his teeth and told himself to endure the pain because he was about to realize the nation's enduring dream of flying in space.
During the Shenzhou VII mission, Zhai Zhigang and Liu Boming spent about 20 hours assembling their extravehicular suits but then discovered they were unable to open the spaceship's exit hatch. Eventually, they decided to use a tool to force the hatch open despite the obvious safety risk. At the same time, the spacecraft's computers sounded a warning that there was a fire in the orbital cabin.
"We had no time for discussion. We knew what was in each other's mind at that very moment: we had to accomplish our mission and wave the Chinese flag in space, even though we realized that there would probably be no return trip for us," Zhai said.
They discovered that their pessimism had been unfounded; the spacecraft was not damaged when they forced the hatch and the fire alarm was a false alert.v
Prev Button
Next Button