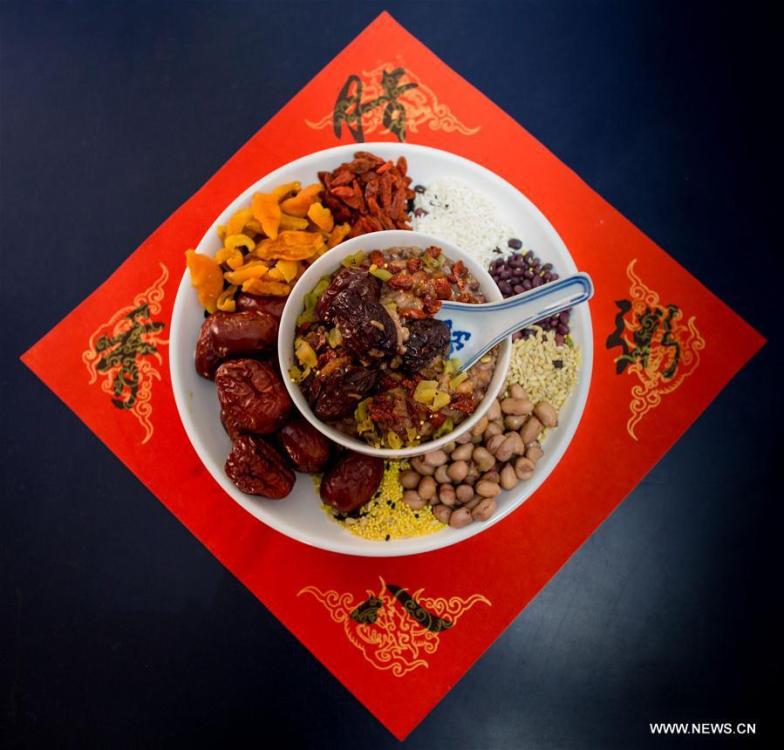 The Laba Festival is a traditional Chinese holiday on the eighth day of the 12th lunar month. It's customary on this day to eat a special Laba congee, or eight treasure porridge, usually made with at least eight ingredients, representing people's prayers for harvest, happiness and peace. (Xinhua/Ding Genhou)
The traditional Chinese lunar calender divides the year into 24 solar terms. Major cold, the 24th solar term, falls on Jan. 20 this year.
At this time of the year, it becomes freezing cold in some regions of China.
Here are some folk customs related to Major Cold, most of which have something to do with food.
Eating "dispelling cold cake"
During Major Cold, People in Beijing have a habit of eating "dispelling cold cake", a kind of rice cake. Sticky rice, the cake's main ingredient, contains more sugar than rice, which can make people feel warm all over their bodies. In Chinese the word "rice cake" has the same pronunciation with the word "higher in a new year", which symbolizes good luck and continual promotion.
Eating fried spring roll
In Anqing of Anhui province, people traditionally eat fried spring rolls during Major Cold. They use a round, cooked, thin pancake to wrap stuffing in a thin roll. Then it is fried in a pan with oil until it turns yellow and floats to the top. The stuffing inside the spring roll contains meat or vegetables and the flavor can be salty or sweet.
Drinking stewed soup
Residents in Nanjing of Jiangsu province like to drink stewed soup during Major Cold, which can make people feel warm from head to foot. They always stew the aged hen soup with ginseng, matrimony vine and black fungus.
Buying sesame straw
Major Cold always coincides with the end of the year in lunar calendar. In some areas of China, people always fall over each other in eagerness to buy sesame straw during this period because of the old saying, "Rise joint by joint like sesame flowers on the stem." This saying is used to describe either ever-rising living standards or making steady progress in thought, studies or skills.
La Ba Festival
An important day during Major Cold is the La Ba Festival, when people usually eat La Ba porridge, a porridge with eight kinds of mixed grains and corn. The festival is celebrated on the eighth (ba 八) day of the 12th month of the lunar calender (la yue 腊月) and is one of the most important traditional festivals in Chinese culture.
The festival was originally a day of thanks for a good harvest and sacrifice to ancestors. It also marks the day on which Sakyamuni, the founder of Buddhism, reached enlightenment and became immortal.
Prev Button
Next Button