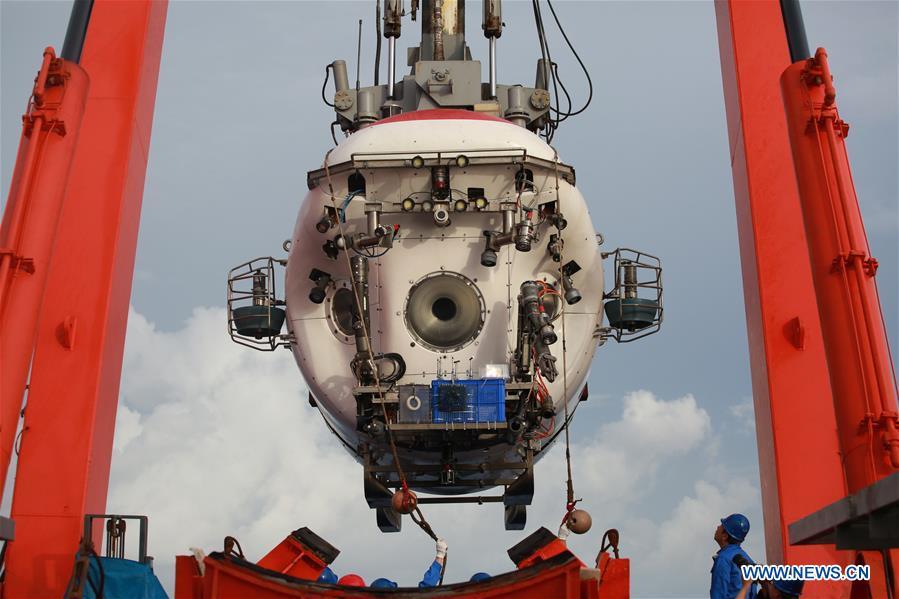 Submersible Jiaolong is about to dive into water in the Mariana Trench on May 23, 2017. China's manned submersible Jiaolong finished a dive in "Challenger Deep" in the Mariana Trench, the world's deepest known trench, on Tuesday. Xinhua News Agency journalist Liu Shiping descended inside the submersible along with scientists to 4,811 meters below the sea's surface. (Xinhua/Guo Songjiao)
The Jiaolong, China's manned deep-sea research submersible, Tuesday morning dived into the Mariana Trench, the deepest part of the world's oceans,with a Xinhua News Agency journalist on board.
This is the latest of a string of major technological events that China has witnessed in the science and tech world over the past few months, including mining of flammable ice, maiden flight of homegrown large passenger jet C919 ,in-orbit refueling of cargo spacecraft Tianzhou-1, launch of the first domestically developed and built aircraft carrier.
Chinese submersible Jiaolong descends to 4,811 meters in Mariana Trench
Prev Button
Next Button