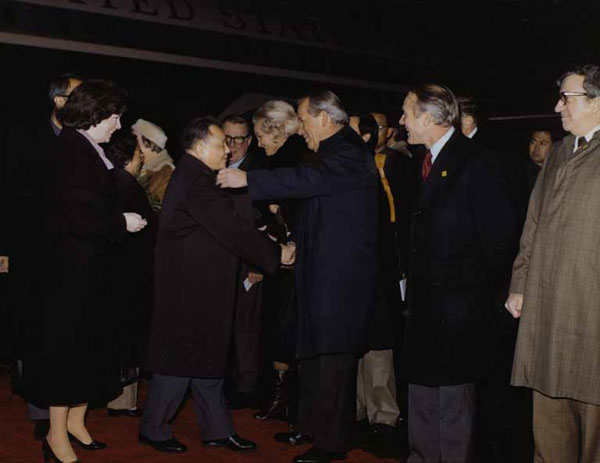 Then vice-premier Deng Xiaoping is warmly accepted when he arrives in Seattle in Feb 1979. (Photo/the University of Washington Libraries)
Seattle, founded in 1850s in Washington and named after Chief Seattle, has deep relations with China, since the first Chinese came to Seattle in the 1860s when China was still under the rule of Qing Dynasty (1644-1911) and Abraham Lincoln emancipated black slaves in the US.
The city attracted the world's attention in Feb 1979 when then vice-premier Deng Xiaoping chose this city as the last stop on his first visit to US. He was the first Chinese leader to visit the US after China and US established diplomatic relations on Jan 1, 1979.
The architect of China's reforms visited Boeing Co with the hope that China will build a world-class aviation industry in the future.
With China's development, Seattle has undoubtedly become a necessary stop for Chinese leaders'visits to US.
In Nov 1993, then president Jiang Zemin visited Boeing Co and a Boeing production worker's home when he took part in the APEC's first informal leadership meeting in Seattle at the invitation of then US president Bill Clinton.
Hu Jintao, successor of Jiang Zemin, chose Seattle as his first stop during his visit to US in April 2006.
Hu spent almost two days visiting Microsoft, which is based in Redmond, near Seattle, and Boeing to promote bilateral development on software and aviation industry.
"Washington state sees China more as an opportunity, whereas Washington DC tends to see China as a threat," said David Postman, spokesman for Governor Jay Inslee.China is Washington's top trading partner, with $20.7 billion of the state's exports going to China in 2014, and $8.3 billion worth of goods imported from China.