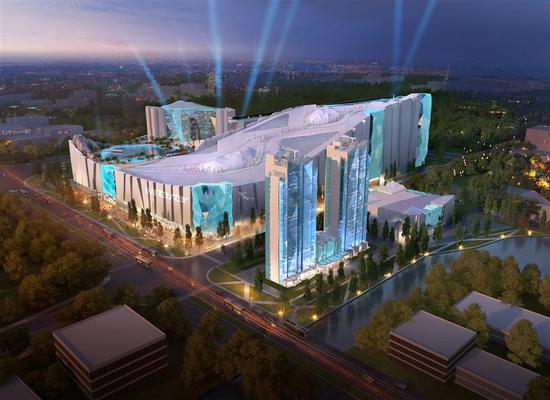 (Photo/Shine.cn)
A spectacular indoor ski resort is set to open in Lingang on the coast of the Pudong New Area in 2022 as part of the celebrations for the 24th Winter Olympics in Beijing.
Once completed, WintaStar Shanghai will be the world's largest integrated indoor ski resort, covering an area the size of 32 football fields with restaurants, accommodation and a shopping mall. It is expected to host around 3.2 million visitors each year.
The exterior of the building is inspired by images of icebergs, European alpine towns and the snow-capped Alps.
The 90,000-square-meter ski park will be three times as big as that in Ski Dubai, one of the world's most highly regarded indoor resorts, with everything from bunny slopes to black runs.
One slope will be built to Olympic standards for professional athletes.
Beginners and children can take part in more than 25 snow activities and enjoy a variety of niveous entertainments. It will even be possible for guests to ski directly into their hotel rooms.
Right next-door to the ski park will be a Viking-themed water park with a beach club, a huge infinity pool and a grand Viking ship.
The site will have four hotels with more than 1,000 rooms and 11,000 square meters will be set aside for shops, restaurants, entertainment and competition venues.
The WintaStar site is very close to Shanghai Haichang Ocean Park, set to open next month, with its range of Arctic and Antarctic wildlife. It is also not far from Shanghai Planetarium, which will become world's largest when it opens in 2020.
Together, the tourism cluster is expected to draw 10 million visitors a year.
New parking lots will have a total of 3,000 parking spaces. Shuttle buses will ferry visitors to and from nearby bus and Metro stations.
The resort will be owned by Shanghai Yaoxue Properties, a joint venture set up by state-owned Lujiazui Group, Pudong's Harbor City Development Group and Singapore-based KOP Properties. Ski Dubai's Majid Al Futtaim will manage the park.
Head of KOP Properties Ong Chih Ching said that she viewed the resort as part of a trend which has seen Chinese people seeking a more relaxed, informal style of vacation.
"It will be a golden time for winter sports in China with the 24th Winter Olympics in Beijing," she said. "We want to blend skiing with recreation and help families feel the charm of winter sports."