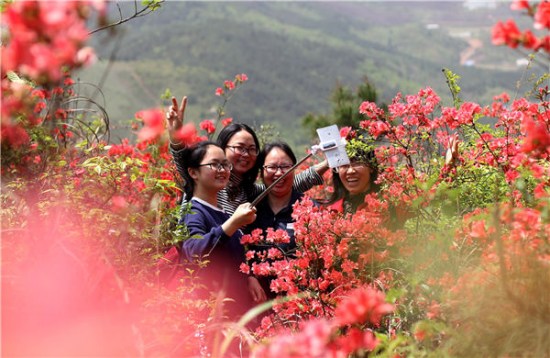 Visitors take a selfie in flowering trees during the recent Qingming holiday in Daoxian county, Hunan Province. (Photo provided to China Daily)
A growing number of Chinese are using online tools to guide their travels.
Chen Chen will travel to Japan this month. She used apps to book air tickets and hotels, read travel tips and make a reservation at a Michelin-starred restaurant.
The Beijing office worker plans to read novels on her phone while waiting for her flight, use a translation app to order food and ask for directions, and use another app to identify flowers.
"Such mobile apps make independent traveling convenient," Chen says.
"But you shouldn't spend too much time on the apps. It's more important to truly experience the moment and local life."
She enjoys using aiPlants, which can identify over 10,000 common plants from photos taken by users with 85 percent accuracy. It also provides encyclopedic information on the plants from the database of the Chinese Academy of Sciences' Institute of Botany. People often use the app at such attractions as scenic areas, botanical gardens, parks and nature reserves.
Chen is among a growing number of Chinese who increasingly use a growing number of apps to travel independently.
More than 85 percent of the subjects constantly use their phones while traveling - that is, an average of six hours a day, according to a recent report Chinese tourism website Mafengwo released with five app providers about how Chinese use apps during trips.
The results are based on data from about 3,500 subjects born in the 1980s and 1990s, 65 percent of whom are women.
"The report tells us about users' behaviors and preferences," Mafengwo's travel research center head Feng Rao says.
"For example, we can use big data to recommend museums, galleries, exhibitions and related products to users who enjoy culture and history."
The apps that most young Chinese use while traveling are for maps and transportation, tourism, photography, social networking, music, videos, reading, fitness and learning, the study found.
People often use apps to read when waiting for or taking transportation, before bed and during rests at such places as cafes and parks. The most popular books are novels, literature, tourism, history and biographies.
Outbound tourists often rely on dictionary and translation apps to communicate with locals, read menus and take transportation. Some use these apps before their trips to learn simple phrases and travel-related words.
Over half of the fitness-conscious continue to work out when traveling. The most popular sports are walking, running, yoga, aerobics, cycling and swimming.
Nearly one in five among this group diet while traveling. Nearly 60 percent will enjoy local dishes but avoid fried foods and desserts, while nearly a quarter don't worry about what they eat.
Half of the fitness-conscious prefer hotels with gyms and 41 percent prefer ones with swimming pools.
Li Weiliang uses apps to stay fit while traveling.
The 31-year-old, who works in advertising in Yunnan province, typically does two hours of strength training four or five times a week.
Li watches training videos on the app Keep to guide his resistance-band workouts if he doesn't hit the gym.
"Exercising while traveling improves your mood and experiences," he says.
Cheng Shi uses short-video apps to document and share his travel experiences.
The 35-year-old started filming his experiences on the road in 2014. He uses his mobile, a GoPro to shoot underwater and a drone for aerial filming.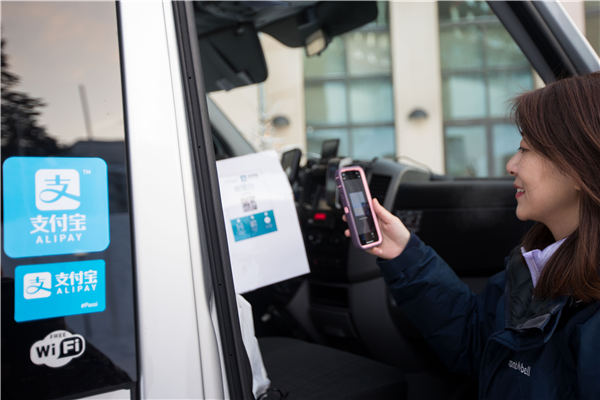 A Chinese visitor scans a code with her phone during a trip to Rovaniemi, Finland, where travelers can use Alipay, China's popular mobile-payment app, for payments. (Photo provided to China Daily)
Special moments he has captured include a romantic marriage proposal by a tourist at Chiang Mai's Water Splashing Festival and a giant whale swimming with its baby.
"I feel a great sense of accomplishment because those who appear in my short videos like them. Some of the people I've only met once. Some have become my friends. It feels more authentic than the likes I get from random netizens," says Cheng, who works in film and animation in Shanghai.
"It's easy for newbies to film and edit short videos using mobile apps, which offer many effects. It's great fun. They should learn to shoot from different distances and angles, and include transitions. If all the footage is just of one person introducing a site, it's more like a talk show."
For instance, if a user is making a short video about food, it's advisable to show such scenes as entering the restaurant and the action of serving the dishes to make the video more narrative, he says.
Indeed, it seems likely that even more Chinese will use more apps to guide their travels as developers race to answer growing demand.