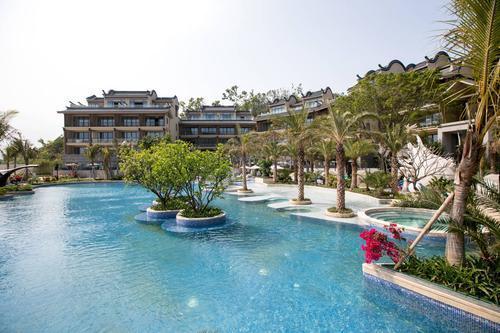 Angsana Zhuhai Phoenix Bay (Photo courtesy Zhuhai Daily(
The deluxe Angsana Zhuhai Phoenix Bay opened March 26 on the coast of Tangjiawan in the Zhuhai National Hi-Tech Industrial Development Zone.
An international hotel with panoramic seascapes including the majestic Hong Kong-Zhuhai-Macao Bridge, this new deluxe resort is part of a 2-billion-yuan ($138-million) holiday project operated by Banyan Tree Holdings.
Surrounded by flora, fauna, and beaches, the facility will soon have Angsana Spa at the site on East Quanxing Road near Meiliwan Residential Area off North Lovers Avenue. Also featured are a water sports center, outdoor swimming pool, jet pool, garden, outdoor terrace dining, and Chinese pink dolphin miniature exhibit.
The aesthetic hotel features classical Lingnan (Cantonese) architecture with pale walls, black roofs topped with wide "smiles," balconies and verandas, spatial fluidity, and integrated buildings, landscape, and flora.
All 200 ocean-view guestrooms are furnished to high standards. With such luxury, it is anticipated that every guest can experience the charm of Fenghuang (Phoenix) Bay and enjoy the white sand beach.
This is the first Angsana brand in Guangdong Province, and the group's 15th offering in the Greater China region. It is also likely to become a staple convention venue with first-class conference facilities and indoor meeting rooms having floor space of more than 698 sq m (835 sq yd).
Banyan Tree Holdings was established in 1994 as a resort, hotel, and spa management and development firm. It now operates in Asia, America, Africa and the Middle East.
The group's Banyan Tree is an all-villa theme that combines pool and tropical garden spas. Angsana was introduced in 2000 catering to families and friends with recreational entertainment. The third option, Cassia, pioneers a holiday apartment concept. Angsana Zhuhai Phoenix Bay will bring the brands together in a three-phase development.
A forerunner is Banyan Tree Ranjha located in a Tibetan hamlet in Yunnan province's Shangri-La County. This was China's first vacation village that not only added luxury but further enhanced the area's mystique and harmony.