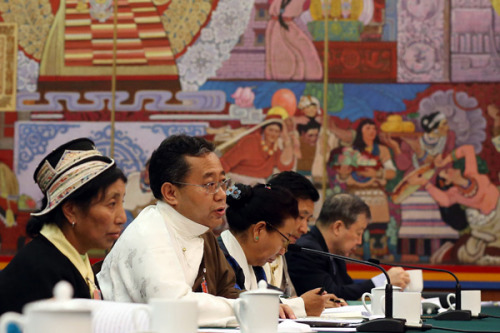 Phurbu Dondrub, a deputy to the 13th National People's Congress, speaks at a plenary meeting of the Tibet autonomous region's delegation to the top legislature's annual session in Beijing on Thursday. (Photo by Wang Zhuangfei/China Daily)
Region's chairman says measures vital to protect fragile environment
The Tibet autonomous region has adopted the toughest environmental protection measures in China to prevent pollution caused by the tourism industry, according to the head of the regional government.
"Although tourist activities haven't harmed Tibet's ecosystem, we have already taken measures to prevent possible threats to the environment," Qizhala, the region's chairman, said on Thursday during a plenary meeting of the Tibet delegation to the 13th National People's Congress. [Special coverage]
Located on the main body of the Qinghai-Tibet Plateau, Tibet is famous for its unique geographical features and rich wildlife, and has been dubbed the "roof of the world".
Tibet was visited 25.7 million times by tourists last year, an increase of 11.8 percent year-on-year. Considering the region covers 1.22 million square kilometers, the impact of tourism on its ecosystem is limited, Qizhala said during the session, which was open to the media.
Preventive measures have been adopted to protect the environment from being harmed by future tourist activities. The measures are the toughest in China, he said.
"No tourist facilities are allowed to be built in the key areas of any nature reserve," he said. "We also attach great importance to the disposal of plastic bags and other garbage brought in by tourists."
Qizhala added that keeping the region stable and protecting its fragile ecological system are priorities for the government.
Norg Gyai, head of the Tibet Environmental Protection Bureau, said on Thursday that the authorities will strike hard against illegal and unauthorized activities in the autonomous region's nature reserves this year.
He made the remark during a meeting in Lhasa, the regional capital, to discuss environmental protection in Tibet.
The autonomous region has 47 nature reserves, covering more than 33 percent of its land area, the highest ratio in China. Gyai said that authorities will step up efforts on environmental monitoring.
Wu Yingjie, the region's Party secretary, said he has high hopes for the second national comprehensive scientific expedition to the Qinghai-Tibet Plateau, due to be launched in June.
"The expedition is crucial for Tibet's development because it will provide a scientific view on how glaciers and lakes in the region develop, and the impact of such development on Tibet and even Asia," he said in Beijing.
The expedition will focus on studying climate, biodiversity and environmental changes in recent decades, as well as assess the potential benefits and risks of climate change.