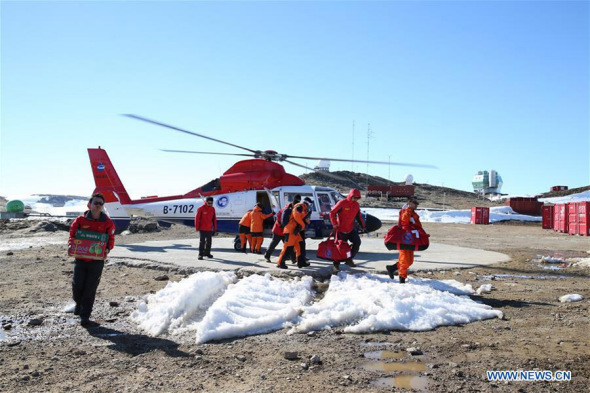 Members of China's Antarctic expedition get off a helicopter after arriving at Zhongshan station in Antarctic, Dec 27, 2017. China's research icebreaker Xuelong, or Snow Dragon, sailed on a floating ice field 42-km away from the Zhongshan Station. A group of team members took the helicopter to arrive at the station. Xuelong set sail from Shanghai, east China, on Nov 8, beginning the country's 34th Antarctic expedition. (Photo/Xinhua)
The State Oceanic Administration on Friday released a regulation on human activities in the Antarctic to protect the fragile environment of the continent.
Chinese citizens are banned from conducting activities that may cause special environmental consequences to the continent, including bringing radioactive waste, poisonous substances or alien species to the continent or removing certain specimens from the continent.
Scientific research and activities to get specimens and living biology for education purposes must get government approval, according to the Environmental Protection Regulation on Activities on Antarctica.
It also says any application for activities in the region must be accompanied with an environmental impact assessment. Organizers of and participants in activities in the region should take necessary measures to protect the local environmental and ecological system and make sure their activities result in minimal environmental and ecological damages.
Organizers and participants will pay what is needed to clean their pollution and restore the environment, and they also will cover the expenditures for rescues, medical services or evacuations caused by their trips, according to the regulation.
The regulation comes amid a surge in the number of Chinese tourists to the icy continent in recent years.
The draft regulation was published in full at the end of last month to solicit public opinion.