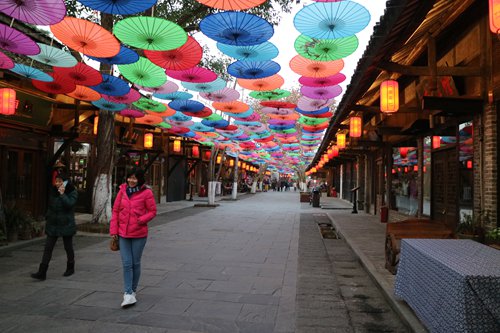 One of the old streets in Anren, Sichuan Province (Photo: Huang Tingting/GT)
With the rise of the number of ancient towns becoming tourist sites in China today, it is becoming harder for them to differentiate themselves as they all look pretty much alike - and often fake, too - with newly polished ancient-style buildings lining stone-paved streets where locals passionately peddle old traditional "handicrafts" that were actually produced on assembly lines.
Well, the ancient town of Anren in Southwest China's Sichuan Province is a bit different. Instead of trying to recreate the atmosphere of a China that existed several centuries ago, local sites related to the country's early 20th century revolutionary past are the town's hottest tourist attractions.
Surrounded by paddies and orchards, the Tang Dynasty (618-907) town is located in the western suburb of Chengdu, around an hour's drive from the city's airport. Aside from its ancient streets, the town is home to dozens of residences that once belonged to local landlords and WWII army leaders decades ago.
Strolling around the town, you can still find worn yet recognizable slogans from the Cultural Revolution (1966-76) painted on some of the buildings' pillars. Quotes from former Chinese leader Mao Zedong can also be seen on one of the walls at Liu's Manor, the town's most popular historical site.
Infamous history
Liu Wencai, the manor's former owner, is one of the town's most well-known historical figures.
Having five wives and owning some 800 hectares of land, Liu (1887-1949) was one of China's most infamous landlords. Close relatives of mine born during the 1960s once told me how their primary school textbooks depicted Liu as a cruel landlord who imposes heavy taxes on farmers. Local legends even depict Liu as a rapist and murderer.
Hoping to find out more about this controversial figure, I decided to go explore Liu's Manor, which was turned into a public museum in 1958. The admission fee is 40 yuan ($6). All signs are in both Chinese and English.
The traditional Sichuan-style buildings seated in the manor's main courtyard look lovely with their black tiles and blue bricks. Gardens inside the manor are well-maintained and look lively with green plants. Living rooms, guest rooms, ladies' chambers, Buddhist prayer rooms and the bedrooms of family members are arranged in complicated layout that strictly follows the rules of fengshui.
Strolling around such an elegant manor, it was hard to imagine that its owner has been a demonic autocrat.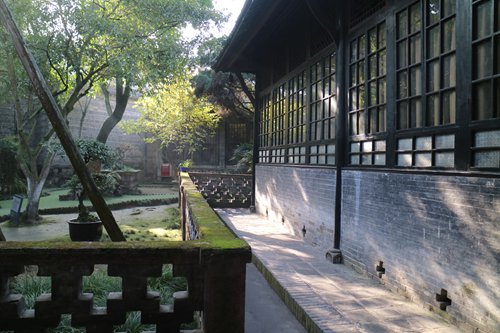 Liu's Manor Photo: Huang Tingting/GT

In some corners of the house, there are dark and narrow alleys that lead to cold storage rooms that were once falsely believed to be the location of a water dungeon where Liu reportedly tortured disobedient farmers. The rooms have now been restored and a sign that read Opium Storage Room hangs by the entrance.

Walking through the storage rooms, you will soon come to one of the must-see spots in the manor - the display room of Rent Collection Courtyard, a series of controversial clay sculptures made in 1965 that depict how Liu and his underlings oppressed farmers and the poor.

A representative product of a time when class struggles were at their peak, the renowned artwork features more than 100 life-sized clay figures shown in a circular display case.

According to reports, thousands of visitors flooded the manor to see this display when it first debuted in 1965.

The artists who created the work said they created it based on interviews with local farmers concerning Liu's behavior, but years later some interviewees admitted that they exaggerated the landlord's cruelty.

Once the pride of the town, the work has now become a sensitive subject that the local government is reluctant to touch upon, according to Lü Peng, general curator of the local Anren Biennale, where Rent-Rent Collection Courtyard, a modern work from Chinese artist Li Zhanyang that was inspired by the 1965 original, is on display.

Despite this controversy, the work is still a big draw and remains unchanged.

In the room where Rent Collection Courtyard is displayed, slogans about class struggles can be seen on the wall. Nearby, a spacious room displays pictures of famous VIP visitors from home and abroad admiring the sculptures.

"Wicked man! Look how he oppressed poor people…" one middle-aged visitor said angrily to her companions as they walked around the sculptures.

${相关报道显示}