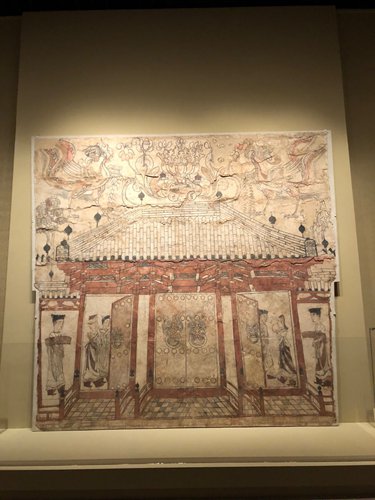 The largest section of paintings from the Jiuyuangang Tomb at the exhibition (Photo: Chen Shasha/GT)
A new exhibition showcasing ancient wall paintings from Shanxi Museum co-organized with Shanghai Museum opened to the public last week. It will run until March 4, 2018, at Shanghai Museum.
The free exhibition, aiming to promote cultural exchanges between Chinese cities, features 89 original fresco paintings from tombs dating back to the Northern Dynasties (386-581), Song Dynasty (960-1279), Jin -Dynasty (1115-1234) and Yuan Dynasty (1279-1368).
According to Yang Zhigang, director of Shanghai Museum, this is the largest fresco exhibition ever held in China, both in content and scale.
Zhang -Yuancheng, director of Shanxi Museum, said that most of these works have never been exhibited to the public.
According to Zhang, since 2005, when the museum first opened, it has protected frescoes from more than 30 tombs of the Northern Dynasties, Song, Jin and Yuan Dynasties. This is the first time that they have exhibited the collections outside of North China's Shanxi Province.
Located on the Loess Plateau, Shanxi is considered the origin of Chinese civilization. It witnessed an important integration of different cultures, which produced large quantities of precious cultural relics.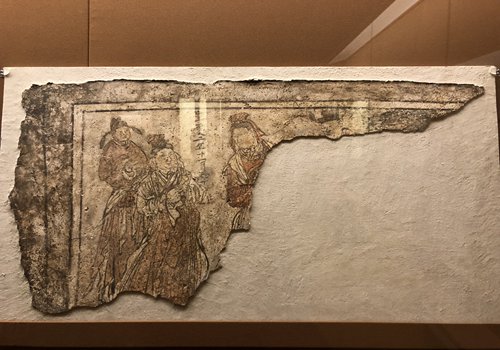 Ancient wall paintings from Shanxi Museum (Photo/GT)
The largest fresco on display
Li Zhongmou, deputy director of Shanghai Museum, mentioned several highlights of the exhibition, such as the paintings from Lourui Tomb of Northern Qi Dynasty (550-577), which represents the highest level of art during that period.
Paintings from the Shuiquanliang Tomb of the Northern Qi Dynasty were cut into more than 30 pieces during its restoration and protection process. The tomb was recreated at Shanghai Museum on a scale of 1:1. Due to the narrow space, it can only accommodate six visitors at a time. Visitors must make an appointment on site.
The largest piece at the exhibition was retrieved from the Jiuyuangang Tomb of the Northern Dynasties. It depicts a wooden-structure building, the first such finding of that period. To transport the 3.2-meter-long and 3.5-meters-high painting, Shanghai Museum had to remove its southern gate for the first time.
Visitors can also watch a video which tells a story about how the paintings were moved and restored, so as to understand the efforts that historians have made to preserve and protect China's cultural relics.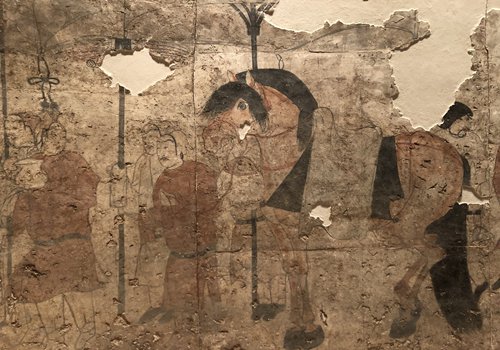 Wall paintings from the Shuiquanliang Tomb (Photos: Chen Shasha/GT)
Great pains
After thousands of years, such wall paintings have become extremely -delicate and vulnerable to the slightest environmental changes. To protect these works during their time in Shanghai, the museum has taken great pains to make illumination adjustments and temperature and humidity monitoring.
According to Yang, some experts and historians have also been invited to give lectures on related topics before the exhibition. A book about all the lectures will be released at the end of December. Workshops and thematic activities will also be held during the exhibition.
Shanghai Museum will also launch an online exhibition on its official website, which takes viewers through a virtual restoration process from beginning to end.
Yang said that the exhibition will help enhance the curatorial abilities of both museums.