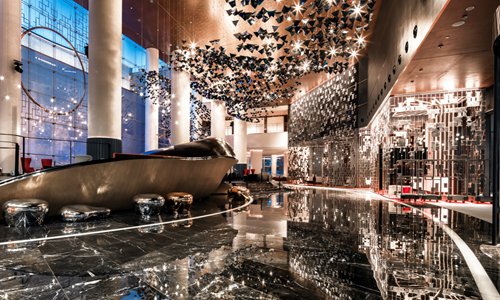 The lobby of W Suzhou (Photo/Courtesy of W Suzhou)
W Hotels Worldwide announced the highly anticipated opening of W Suzhou, the brand's newest property in China on September 27. Located on the banks of Jinji Lake in Suzhou, 90 minutes' drive from central Shanghai, W Suzhou is within walking distance of bustling parks and top attractions along the lake's edge. Owned by Suzhou Industrial Park Jinji Lake Urban Development, the hotel embodies a modern take on the city's architectural heritage with a design story inspired by the region's deep connection to nature.
A new centerpiece of urban architecture and design in Suzhou, Jinji Lake is a modern high-design hot spot offering a contrast to the many nearby UNESCO World Heritage sites that have attracted visitors for generations. The bustling social and commercial center of Jinji Lake was built almost entirely within the last decade and is now a magnet for businesses, high-end residential developments and jet-setting travelers.
"We are always looking to bring W Hotels to exciting new destinations. Wherever there is a common passion for innovation and new lifestyle experiences, we see an opportunity to redefine the hospitality market, beyond the world's most well-known cities," said Anthony Ingham, global brand leader of W Hotels Worldwide. "Suzhou has dramatically transformed over the last decade, welcoming modern design, art and culture, and is becoming a go-to spot for global travelers. We look forward to welcoming guests to W Suzhou and are excited to bring the energy and bold design W Hotels is known for to one of China's hottest growing travel destinations."
The design narrative of W Suzhou is inspired by the historic city's UNESCO-listed classical gardens. Designed by Rockwell Group, the hotel highlights traditional and natural elements through the brand's lens of vibrant design. These concepts are integrated into the hotel's aesthetic, reinterpreting lakes, rocks, pavilions and gates as levitating elements woven throughout the hotel. At the porte cochere for example, guests are greeted by the "Crystal Cloud," a dichroic acrylic and metal chandelier that simulates the subtle flow of clouds through changes in lighting and mist.
"China has become one of the most important markets for Marriott International," said Stephen Ho, chief executive officer in China, Marriott International. "Suzhou is known for its classical gardens and canals, but the area is also rapidly developing into a key business hub in Jiangsu Province. The scenic city, also known as the 'Venice of China,' attracts millions of business and leisure travelers annually, proving its readiness to welcome an iconic international brand like W into this key market."