If you are interested in viewing some rare ancient artworks, you will certainly have plenty of opportunities to do so at the Palace Museum in Beijing this month. Among the more notable works making their debut at the Beijing museum later this month is a legendary 11.9-meter-long Song Dynasty (960-1279) landscape painting by an 18-year-old court artist that has only been displayed three times in the past six decades.
At a press conference Monday, the Palace Museum announced that it will be holding five major exhibitions, including one digital show, at the Forbidden City and an additional exhibition outside Beijing, kicking off a packed month-long visual feast.
Exhibitions Paintings and Calligraphic Works of Zhao Mengfu, A Panorama of Rivers and Mountains: Blue-green Landscape Paintings from across Chinese History and an exhibition displaying the belongings of 19th century Austrian empress and Hungarian queen Sisi and Hungarian aristocrats on loan from Hungary's national museum are definitely highlights of the month as they will feature a staggering number of valuable and rare works.
Other exhibitions include a deer-themed exhibition, an exhibition of royal Ming Dynasty (1368-1644) porcelain works, a digital show incorporating VR and AI that allows visitors to experience a day in the life of Chinese royalty and an exhibition held in East China's Anhui Province featuring the museum's collection of Ming and Qing (1644-1911) dynasties paintings from local Anhui painters.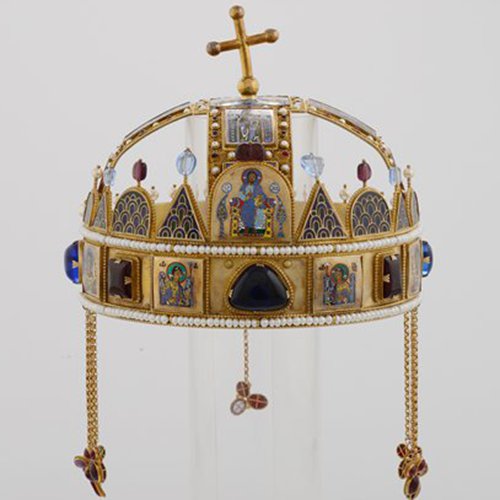 A royal Hungarian crown (Photo/Courtesy of the Palace Museum)
Legendary scroll
Scheduled to be shown to the public on Friday, A Panorama of Rivers and Mountains is a Song Dynasty landscape scroll painting measuring nearly 12 meters long. It ranks among the top 10 masterpieces in Chinese art history alongside the famous Along the River During the Qingming Festival.
Painted by Wang Ximeng, a young talented court artist who was 18 at the time, the scroll depicts a bird's eye view of mountains and rivers using green and blue colored mineral pigments. This use of color makes it a perfect representative of blue-green landscape painting, a type of painting that flourished after the Tang Dynasty (618-907).
The young artist's one and only recorded work, the legendary painting has been displayed to the public only three times since the establishment of the People's Republic of China in 1949 due to its fragility.
"Unrolling the scroll might cause the paint to peel, so the painting has to 'rest' for a long time before it can be shown again," Wang Zhongxu, an associate researcher at the museum, said at the conference.
A specialized display case had been made for the painting. The case will be placed in a spacious room so it can stand apart from other renowned blue-green landscape paintings on display.
The popularity of the work is sure to attract a large number of visitors from home and abroad. According to the museum's curator Shan Jixiang, emergency plans for coping with possible long lines and crowds have been made.
Yuan master
Another high-profile exhibition is the Paintings and Calligraphic Works of Zhao Mengfu.
Zhao is a well-known name to anyone who knows a bit about ancient Chinese art. A versatile artist proficient in all the five major Chinese script styles and painting categories - especially the categories of landscapes, horses and figures - the Yuan Dynasty (1279-1368) master was, and still is, an influential role model for both his contemporary and posthumous counterparts despite his controversial political identity as a descendant of the Song royal family serving the Mongol rulers of the Yuan Dynasty.
The painter brought a revolutionary change to the artistic creations of his time by revitalizing Jin (265-420) and Tang dynasties painting styles in his works.
"One prominent characteristic in Zhao's paintings and calligraphic works is 'learning from ancient works,'" explained Wang Qi, associate director of the museum's Calligraphy and Painting Department, at the conference.
According to Palace Museum representatives, the three-month show, which already started on September 6, is the biggest of its kind ever held in China to date.
Scheduled to replace some of the exhibits with another batch of precious works in late October, the exhibition is showcasing some 100 pieces of extremely valuable calligraphic works and paintings by Zhao, as well as artworks by his contemporaries and followers.
Highlights include Zhao's Waterside Village, Bathing Horses and Arhat in Red and calligraphy work Thousand-Character Essay in Running Script, as well as painting Eight Types of Flowers by late Song/early Yuan artist Qian Xuan and calligraphy work Ode to General Wei by Du Fu in Cursive Script, by Yuan Dynasty calligrapher Xianyu Shu.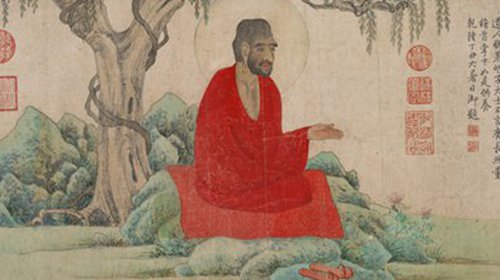 Arhat in Red by Zhao Mengfu (Photo/Courtesy of the Palace Museum)
High expectations
The exhibition showing valuable relics that once belonged to Hungarian aristocrats and Empress Sisi will offer museum visitors in Beijing a peek into the lives of nobles during the 17th to 19th centuries starting on September 28.
Previously put on display in Shanghai from June to early September, this marks the first time that the national level Hungarian collection will be showcased at the Palace Museum.
Chinese netizens have been discussing passionately on Sina Weibo about their plans to visit the exhibitions.
Looking forward to seeing these precious exhibits with their own eyes, many living outside Beijing discussed their plans to travel to the city, while more experienced travelers warned others to bring along food, since it was highly likely long lines would mean they would miss lunch.
"I'd very much like to fly to Beijing for the Zhao Mengfu exhibition," Li Wenting, a calligraphy major from the Guangzhou Academy of Fine Arts, told the Global Times.