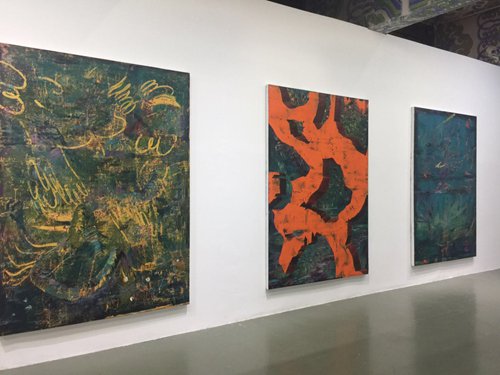 Paintings by Julien des Monstiers on display at Yishu 8 (Photo: Xu Liuliu/GT)
Dreams are a common theme in works by French artist Julien des Monstiers.
Recently, the artist spent the last three months returning to this theme as part of his residence project at Beijing's Yishu 8 art center.
"I came up with the idea of creating a series of large-scale paintings featuring animals shortly after arriving in Beijing," said Julien, or Dai Mengtian as he is known in Chinese, at his Yishu 8 exhibition Dream of Others on Saturday.
Most of his paintings feature the dreams of a wide range of animals, from small butterflies to giant elephants, and even a dragon.
"When you wake up each morning, you only have rough memory of what your dream was. My paintings share a similar feeling when people view them," he said
The exhibition is set to run until October 11.