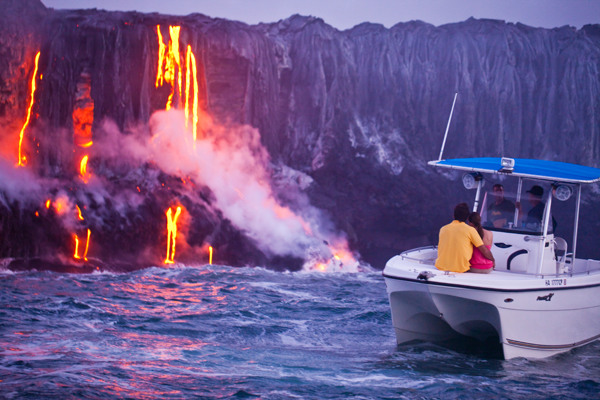 Visitors watch lava enter the Pacific Ocean at Hawaii Volcanoes National Park on the Big Island of Hawaii. (Photo/China Daily)
Hawaii is introducing new initiatives to lure Chinese travelers.
The island destination hosted a promotional event that brought together its tourism authority, hotel and airline representatives, and Chinese tour operators earlier this month.
A health-themed program has been launched to target urban women this year, managing director of Hawaii Tourism's China operations Reene Ho Phang says.
"We will integrate rich outdoor resources, such as surfing, parachuting and helicopter touring, to bring healthy and happy lifestyles in Hawaii to Chinese tourists," Reene says.
About 170,000 Chinese traveled to Hawaii in 2016, up 3 percent over the previous year.
Over 80 percent were first-time visitors.
More than 122 million Chinese made outbound trips last year, international tourism consultancy IPK International reports.
The Beijing event is one of the many ways Hawaii is trying to gain a bigger slice of the Chinese market.
"We've seen an increase in the duration of stay by Chinese tourists," Phang says.
Chinese spend six and a half days on average.
And Chinese spending topped all the other travelers' at $365 a day.
Tour services have launched programs to cater to Chinese visitors.