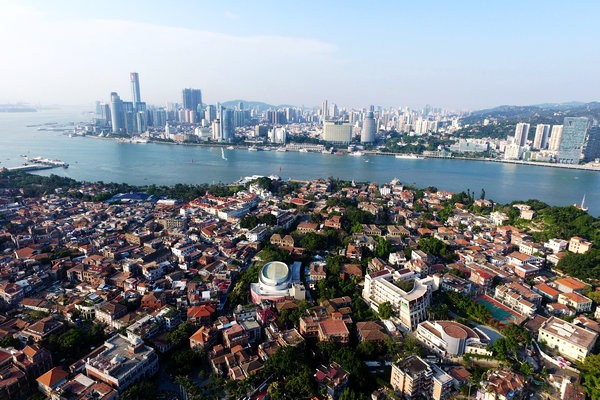 Gulangyu, an island off the coast of Xiamen, Fujian province. (Photo/Xinhua)
Influx of visitors proves Gulangyu's attractions but focus now turns to protecting its proud heritage
The summer's burning heat does not appear to dent the enthusiasm of travelers to Gulangyu Island, also known as Kulangsu in the local dialect in Fujian province, since the island was listed as a UNESCO World Cultural Heritage site.
To better protect the 1.88-square-kilometer islet to the east of downtown Xiamen, the local government set a ceiling of 50,000 visitors per day in a bid to give travelers a better experience and add more cultural elements.
About 10,000 people are permanent residents on the island, meaning that about 40,000 visitors are allowed onto the island each day, said Wang Weishan, deputy director of the Management Committee of Gulangyu Island and Wanshi Mountain.
"We will not take this opportunity to raise the ticket price. Instead, we'll have reasonable control over the number of visitors, considering the need to better protect the island.
"We'll also improve the quality of their visits with more cultural elements," Wang said.
That was in line with President Xi Jinping's call to build a special brand of Gulangyu Island by protecting the natural environment, renovating historic buildings and improving infrastructure and public services.
As early as 1985, Xi presided over the compiling of a 15-year economic and social development plan for the coastal city when he was Xiamen's vice-mayor. Tourism development for Gulangyu Island was one of the key sections in the city's plan.
In 1987, the city government established a special team to issue a development plan that suited the island, where dozens of decades-old and Western-style buildings are still standing after being transformed from consulates into schools and hospitals.
Four years later, the overall plan for Gulangyu Island and Wanshi Mountain was approved by the State Council. The plan set a paradigm for the current monitoring system and started to balance tourism development and cultural and ecological protection.
From 1985 to 2013, Xiamen issued more than 30 regulations and residential covenants to protect 931 historic buildings and gardens, in addition to 183 cultural protection sites that were recognized by the local and central governments.
Xiamen has decided to set up a new cultural heritage protection committee, an upgrade of the current management committee, which will enjoy more autonomous power in decision-making, Wang said.