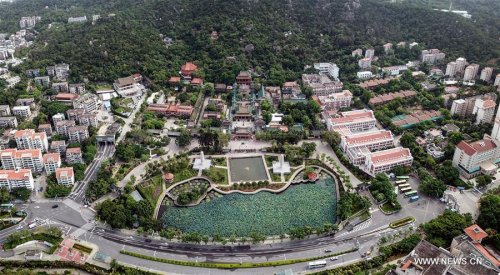 Photo taken on Aug. 24, 2017 shows the scenery of South Putuo Temple in Xiamen, a scenic city in southeast China's Fujian Province. The 9th BRICS summit will be held in Xiamen from Sept. 3 to 5, 2017. (Xinhua/Li Xin)
Ranked as China's "most romantic and leisurely city", Xiamen possesses one of the world's greatest natural landscapes. It is also the host city for the 9th BRICS Summit in September this year. Here are ten things to do that could help ensure you a memorable trip there.
1. Stay overnight on Gulangyu Island
Gulangyu Island, located to the southwest of Xiamen, is known for its natural beauty, ancient relics, and diverse architecture.
Apart from some renowned attractions, one of the most fun things to do here is enjoying a lovely night. There are numerous inns with different styles, providing a sweet, romantic and cozy atmosphere.
Viewing the gorgeous beach scenery, sipping a fresh Mojito, or just daydreaming can help you escape the hustle and bustle of everyday life.
2. Cycle along Island Ring Road
The Island Ring Road is a 4-6 lane seaside road that is 43 kilometers in length. It offers tourists a perfect way to bike along beautiful seashores.
The best part of the island ring road starts at Baicheng Beach and ends at Xiamen International Conference and Exhibition Center, a 10km stretch of amazing views.
You can rent a bike to cycle the route, a trip that takes about 2 hours. You can also visit some interesting places along the way.
3. Taste local street food
As a famous city surrounded by the sea, Xiamen has a time-honored history of producing some special seafood snacks, with rich Minnan cultural connotations.
Care for some local street food? Head down to Zhongshan Street night market and try peanut soup, Xiamen-style spring rolls, Tusun dong, satay noodles and oyster omelets.
4. Wander around Xiamen University
Ranked as one of the most beautiful universities in China, Xiamen University was founded in 1921 by Tan Kah Kee, a well-known Chinese businessman and philanthropist. The campus is like a large garden, with ubiquitous dainty western buildings, European-style villas, and large lawns.
5. Burn incense and pray at Nanputuo Temple
Nanputuo Temple is located in the southeast of Xiamen. It is surrounded by the sea and Wulao Peak. Nanputuo literally means South Putuo. The temple is a very famous Buddhist site founded in the Tang era.
6. Hang out at Xiamen Railway Culture Park
Snaking its way through Xiamen's old town, Xiamen Railway Cultural Park was transformed from a 4.5km deserted railway line. It is an excellent place to hang out, walk along the old railway, or explore Xiamen's old town area.
7. Kitesurfing at the beach
With its long sandy beaches and clear sea water, Xiamen claims to be one of the best sites for kitesurfing and windsurfing in China. Top of the list is Baicheng Beach, which enjoys a reputation as Golden Beach.
8. Hike through a botanical garden
Lose yourself in a jungle of over 5,000 species of tropical and sub-tropical plants at Wanshi Botanical Garden. Built in 1960, stretching 4.93 kilometers and housing a wealth of plants across 29 different gardens, it provides a tranquil hideaway from urban life.
9. Explore Hulishan Fort
Hulishan Fort, located on the Island Ring Road, is a 30-minute drive from central Xiamen. The remains of this coastal fort include the 60-ton, 13-meter-long Huli Cannon, the last of its kind in China, dating back to 1891 when the Qing dynasty was ruling China.
10. Experience local culture at Shapowei Art Zone
There is no place better than Shapowei to experience local culture in Xiamen. What was once a small fishing village has become a hub for local artists and entrepreneurs. At night, locals gather here to sell their wares. You can also grab a slice of pizza and a cold beverage while admiring local street art and enjoying musicians performing live music.