(file photo)
An empty bullet train from Beijing to Shanghai zoomed down the tracks at 350 km/h on July 18 in a successful test run. It took the G9 "Fuxing" CR400AF bullet train four hours and ten minutes to arrive at Shanghai Hongqiao Railway Station from Beijing South Railway.
An official from the Shanghai Railway Bureau revealed the same day that the operating speed of the high-speed railway will increase from 300 km/h to 350 km/h around October 1 this year.
China's high-speed railway system decreased operating speeds starting from July 1, 2011. All the bullet trains that could reach a top speed of 350 km/h were slowed to 300 km/h to improve energy efficiency. Since then, there has been a lot of talk about when speeds might increase again.
Hu Siji, a professor at the School of Traffic and Transportation at Beijing Jiaotong University, said that the speed increase is bound to happen, provided there are no safety issues. "The high-speed trains are now running at 300 km/h, and there is still some room for improvement," he said.
It is reported that the maximum test speed of the latest "Fuxing" class bullet train has exceeded 400 km/h, and its continuous operating speed is 350 km/h.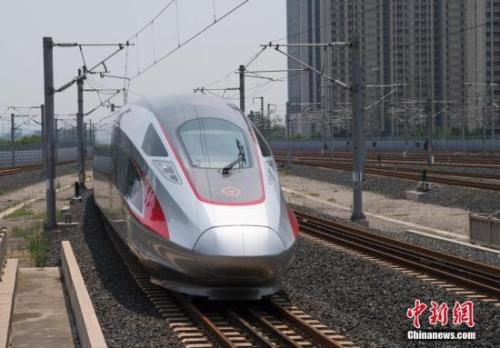 (Photo/Chinanews.com)
Zhao Hongwei, a chief engineer at the China Academy of Railway Science, revealed that the "Hexie" class bullet trains reached 486.1 km/h in test runs, and the "Fuxing" has achieved speeds of 425 km/h in a tunnel test run.
After the speed of the Beijing-Shanghai high-speed railway is boosted to 350 km/h, travel time will be reduced to about four hours. Many other passenger lines will also increase speeds to that level, shortening travel time by about 40 to 50 minutes.
It is reported that operating and maintenance costs will increase by one third when the speed is increased. However, the Beijing-Shanghai high-speed rail has achieved notable economic and social benefits in recent years. This passenger line has been profiting since 2014 and profits are on the rise.
"Even though the operating cost will increase, it's time to boost the railway speed", said Hu.