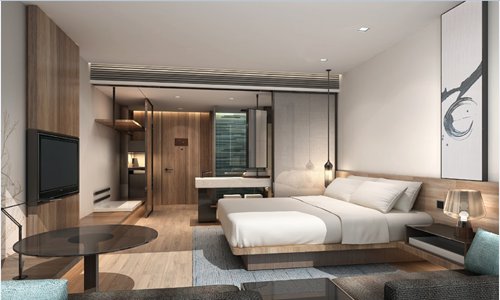 A guest room at Fairfield by Marriott Nanning Nanhu Park (Photo/Courtesy of Fairfield by Marriott Nanning Nanhu Park)
Marriott International Inc. debuted the first Fairfield Marriott branded hotel in China with the opening of Fairfield by Marriott Nanning Nanhu Park in China's Guangxi Zhuang Autonomous Region on July 6, marking another step in the brand's aggressive growth strategy for the next five years.
The hotel is the result of a September 2016 agreement between Marriott International and Dossen International Group to bring the Fairfield by Marriott brand to the Chinese mainland. The development agreement is geared toward dynamic growth in different cities across China in the next five years. The introduction of the Fairfield brand is a significant milestone in Marriott International's expansion into the select service hotel industry in China and is a part of the company's strategic plan to expand rapidly across a broad spectrum of price tiers and destinations in the country.
"We are extremely excited about the launch of the Fairfield by Marriott brand in China because it gives travelers even more choices when traveling throughout China," said Marriott International, Asia Pacific's vice president in charge of branding and marketing Mike Fulkerson. "This partnership gives us the ability to extend into the fast-growing second- and third-tier cities throughout China, further building Marriott International's portfolio in China."
Fairfield is a global leader in the select service hotel sector with nearly 850 hotels in the US, Canada, Mexico and India. Fairfield by Marriott has achieved rapid brand expansion and market penetration through its trusted business model which includes franchising to reliable business partners globally and particularly in China through its partnership with Dossen International Group, one of the fastest growing hotel groups in China.
"We are excited about our partnership with Marriott International and will target aggressive growth over the course of the next five years," said Qi Xiaoguang, the CEO of Guangzhou Man Tung Hotel Management Co., Ltd. "It's a tremendous milestone. We aim to introduce this trusted brand to Chinese travelers."
Fairfield offers value-minded travelers who seek a seamless stress-free stay the ability to maintain balance in their routine and stay productive while on the road, all with the quality, consistency and service experience of an international brand. Fairfield's Chinese name wan feng was inspired by the brand's spirit of simplicity, dependability and comfort.
Fairfield by Marriott Nanning Nanhu Park features open spaces that are flexible for both work and entertainment. Relaxation and simplicity are fundamental to the design of the hotel's 209 guest rooms, each of which is fitted with modern décor set in a palette of neutral hues and accented with natural wooden furnishings.
Guests wake up to a complimentary breakfast at the hotel's restaurant and can purchase snacks and refreshments from a 24/7 convenience store in the lobby. Also, for the fitness minded, a 24/7 fitness center is on-site, so they need not miss a beat of their workout routine.
Located on Binhu Lu in Qingxiu district of Nanning, the hotel is a short 10-minute walk from the Wanda business district and Xianbin Lake Park. It's also an easy car or bus ride away from the Nanning International Convention and Exhibition Center and the Nanning East Railway Station, and 45 minutes by car from the Nanning Wuwei International Airport.