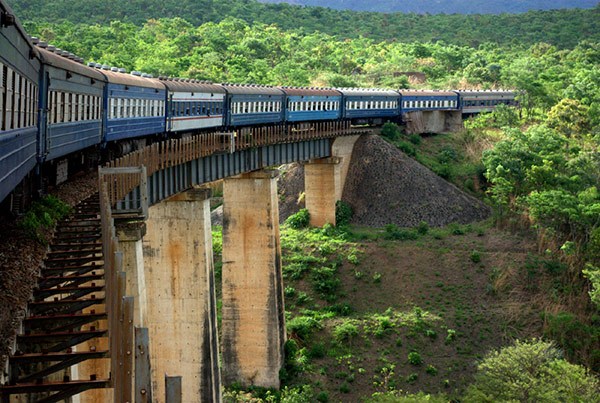 The TAZARA Railway links the Tanzanian port of Dar es Salaam with the town of Kapiri Mposhi in Zambia.(Photo by Richard Stupart for China Daily)
Chinese tourists prefer less well-known small cities and villages-along with big cities and hot destinations-when traveling to countries and regions related to the Belt and Road Initiative, according to a report by international house-sharing service provider Airbnb Inc.
More than 420,000 Chinese tourists booked accommodation through Airbnb in the economies participating in the Belt and Road Initiative in the past year, including Middle East countries, in the process contributing about $30 million in income to local property owners, the report said.
It found that Thailand was the most popular tourist destination for Chinese outbound tourists, followed by Malaysia, Singapore, Sri Lanka and Indonesia. As to cities, Bangkok, Chiang Mai, Singapore and Kuala Lumpur were the top choices.
The report showed more than half the Chinese visitors to Singapore, Sri Lanka and Vietnam choose to live under the same roof with Airbnb homeowners.
Moreover, nearly 340,000 tourists from countries and regions related to the Belt and Road Initiative traveled to China through booking accommodation at Airbnb in 2016.
The report's findings showed that Shanghai, Beijing and Guangzhou have become the most favored destinations among foreign travelers. Meanwhile, property owners from China's third- and fourth-tier cities also received guests from those economies.
Users of Airbnb Singapore had the most extensive presence, covering almost 100 Chinese cities in 30 provinces, autonomous regions and municipalities, followed by users from Malaysia, Thailand and Russia.
"Airbnb is committed to building a cultural exchange platform on which people of different countries can open their homes and welcome each other, and play an active role in promoting people-to-people communication," said An Li, vice-president of Airbnb China and head of the public policy team.
The report also found that more than 60 percent of Chinese tourists to the Belt and Road economies were no more than 30 years old.
The most popular destinations among Chinese tourists aged 60 or older were Thailand, Singapore and Russia.
In March, Airbnb signed an agreement with Fudan University to establish an Airbnb Go-Global Fudan Scholarship, which will support students to study in the countries and regions related to the Belt and Road Initiative.
Founded in August 2008 and based in San Francisco, Airbnb is a major player in the international sharing economy, having connected more than 150 million users in more than 65,000 cities in 191 countries.
Ma Tianjiao, an analyst at Beijing-based internet consultancy Analysys, said nowadays Chinese travelers are not satisfied with a hotel, but are willing to try something different during a trip.