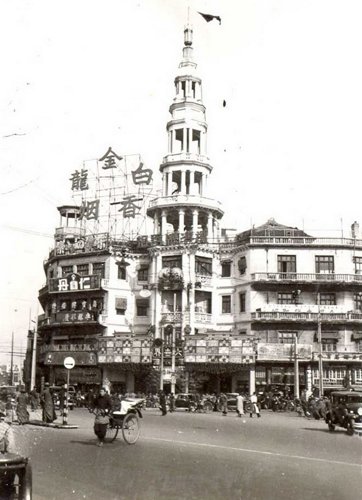 The Great World is seen in this 1936 file photo. (Photo/Courtesy of Guo Changyao)
Among Shanghai natives, there used to be a popular saying that if you hadn't visited Shanghai Dashijie (the Great World), you could barely say that you had been to Shanghai. The Great World was a venue built in 1917 as an amusement park with a legacy lasting nearly a century.
Among millennials and newcomers, however, the venue has no meaning, as it closed for business in 2003. Recently Huangpu district announced that it would be reopening the Great World to the public just in time for its centenary as a showcase to appreciate intangible cultural heritages of the world.
Leading up to its grand reopening March, the Great World recently started a trial operation for designated groups of visitors. The Global Times was among the first 100 visitors attending the centenary. Dozens of other local citizens, especially middle-aged and seniors, gathered excitedly to see how this special place from their past had changed.
The newly renovated venue has kindly retained some historical artifacts, such as distorting mirrors (pictured above) which were made in the Netherlands in 1917. Today, visitors lingered at the area to laugh at their distorted selves, which seemed to take them back to their childhoods. Indeed, before brand-name resort parks and technology stole its thunder, the Great World used to be Shanghai's premier entertainment attraction.
A brief history of the Great World
In keeping with its reputation as a melting pot of outsiders, the Great World was in fact not built by a Shanghai native but a doctor, Huang Chujiu, from 1870s Zhejiang Province. Huang came from a long line of historians, geographers and political theorists throughout the Ming (1368-1644) and Qing (1644-1911) dynasties.
He learned medicine from his father, became a traveling doctor, then moved to Shanghai to set up a pharmacy. At the age of 39, Huang set up a medicine company and invented Dragon Tiger Panacea, which according to the Shanghai Observer earned him the nickname "the frontman of boycotting Japanese goods" for snatching up the panacea market from the Japanese.
By 1912 he began venturing in the local entertainment industry and co-invested in China's then-largest theater, New Stage, which hosted Peking operas and modern dramas. He teamed up with a real estate developer named Jing Runsan for China's first amusement park, Louwailou, which also had China's first rooftop garden. In 1915 the two co-launched the New World Amusement Center on Nanjing Road at the location where Shanghai New World Department Store now stands.
Huang served as general manager of the New World, which boasted a skating rink, cinema and horse-racing course on its first floor, traditional Chinese operas and acrobatics on the second floor and a teahouse and Chinese and Western restaurants on its rooftop garden.
Business (and profits) were swift, but following Jing's sudden death in 1916 from a cerebral hemorrhage, Jing's widow pushed Huang out of ownership, forcing him to withdraw his shares in the lucrative venture.
Shanghai's premier amusement park
In March of 1917, Huang began the construction on a rival entertainment venue, the Great World, with the support of then-consul of the former French concession at the intersection of Yan'an Road East and Xizang Road South. According to the Shanghai Observer, its opening day received over 20,000 visitors. Larger and more comprehensive than the New World, the Great World became the most popular amusement attraction in town.
The venue expanded in 1928 with more than 60 entertainment programs available at its 14,700-square-meter area. But the economic crisis of the late 1920s took its toll on Huang both economically and physically. After his death in 1931, the Great World was obtained by Shanghai's infamous gangster, Huang Jinrong (unrelated). Following the establishment of the People's Republic of China in 1949, property was assigned to the government.
By the early 1950s, the venue was renamed People's Republic of China's Amusement Park; in 1974 it was changed again to Shanghai Youth Center. In 1981 it reopened as the Great World Amusement Center, offering Chinese opera performances, acrobatics, a fun house, arcade and rides such as bumper cars.
It's been closed since 2003, but according to Xie Jun, a managing officer of the Great World, two years ago the government decided to reopen the venue as a center to promote China's intangible cultural heritages (ICH). The building, which was listed as a protected historical structure in 1989, has retained its original architecture of classic Chinese and Western styles, but its services today will be very different from the past.
Intangible cultural heritages
Major programs will now comprise of five aspects: ICH exhibitions, ICH performances, ICH classes and workshops, digital ICH interactions as well as food made with skills listed as ICH. The first floor has an outdoor stage dedicated to traditional performing arts. On the second floor are regular exhibitions of ICH skills and craftsmanship from around the country. A Shanghai opera adapted from awarding-winning novel Blossoms will debut at its teahouse.
On the third floor, visitors can see how contemporary artists draw inspiration from ICH or apply for workshops and classes held there to pick up some ICH knowledge and skills. The fourth floor will display Chinese folk art and hold regular ICH-themed art exhibitions. The first themed exhibition will be about the Silk Road, with original artworks and replicated grottoes.
According to Xie, the price of tickets will be relatively affordable as the venue hopes to attract visitors. "For people who can't wait until March, I would suggest first visiting those spaces and stores beside the Great World. There is a good selection of ICH arts and crafts on view already," Xie said.