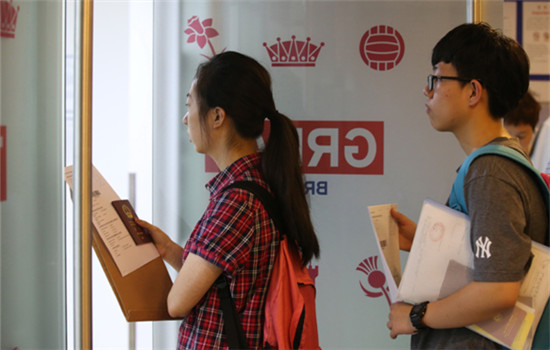 Two tourists apply for UK visa at an external application processing center in Beijing. (WANG JING / FOR CHINA DAILY)
The rapid growth of China's outbound tourism in recent years has given a boost to many ancillary businesses like visa application processing agencies, tourist information services, photo studios, photo-copy centers and cloakrooms near embassies.
Baicheng.com, one of the largest visa application agents in China, said it is bullish on the market potential of visa application services as increasingly younger consumers are traveling abroad.
The demand for visa-related services is growing, it said.
In the first half of this year, Baicheng.com netted sales revenues of 236 million yuan ($34 million), up 67 percent year-on-year. During the same period, it said, it achieved gross profits of 18 million yuan, soaring 127 percent year-on-year.
"This year, we have provided visa application services for nearly 1 million individuals, and Japan, South Korea as well as Southeast Asian countries have become the most popular destinations, given their cheaper prices and proximity," said Sun Changwei, vice-president of Baicheng.com.
"Applicants need to apply for their visas at different consular districts. For example, those who live in Hebei province have to come to Beijing to apply for visas. Many applicants consider the practice of traveling to Beijing and booking local accommodation too troublesome, thus they order the services online and mail the materials to us and wait to get their visas."
The O2O (online-to-offline) travel service platform said most of its customers are those born after 1980, and are reasonably versed in English language.
Visa applicants can have their documents and credentials examined online. They can also obtain other consultancy services online. Besides, they can check the progress of their visa applications online.
Nevertheless, some applicants still prefer to fill up the forms and submit them to the embassies or consulates themselves.
"I studied abroad before and I prefer to apply for the visas myself. I am aware of the potential dangers in sharing personal documents like passports with third parties. Risks like frauds by agents are also a factor," said Kevin Sheng, a Schengen visa applicant in Beijing.
Such risks, however, are not rampant among some small businesses that provide simple services.
Wang Kai, from Heilongjiang province and in his 50s, has been working near the U.S. embassy in Beijing for 16 years. When he started, he used to distribute fliers for airline ticket agencies. As online ticketing became popular, he started a mobile cloakroom five years ago.
As the U.S. embassy in Beijing does not allow visa applicants to bring in their bags, his mobile left luggage service has proven useful.
"I usually drive my car to the embassy, and applicants put their bags in my trunk for safekeeping. I charge 20 yuan per bag. There's no time limit. When the business is good, I safekeep 20 to 30 bags a day. I identify myself, give customers a badge and my contact details so they could rest assured that their bags will be safe with me.
"I have made some good money from my business. Now all of my family members live in Beijing. With the help of my daughter, I bought a house in suburban Beijing, near Hebei province."