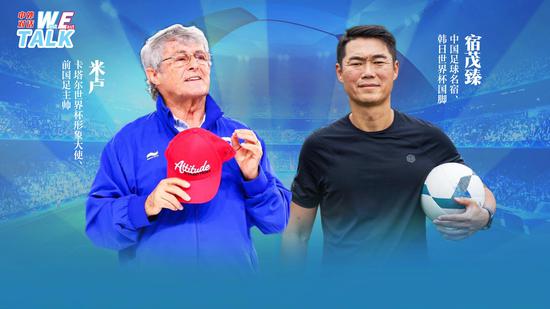 Special: W.E. Talk 东西问 · 中外对话
(ECNS)-- How will Chinese football team fight its way out of Asia and step onto the world stage again? And how should Chinese football learn from the past and set for the future?
In the latest episode of W.E. Talk, Bora Milutinovic, also nicknamed "Milu" who coached Chinese national team two decades ago, and Su Maozhen, a Chinese football coach and former international player, have been invited to talk over the topics above.
Milutinovic has helped the Chinese football make its one and only appearance in the World Cup when he coached the Chinese national team in 2002. He noted that Chinese football should take a positive and long-term view in youth guidance and systematic training. Speaking of the new coach of Chinese national team, Milutinovic thinks an experienced coach who has empathy with Chinese fans is a better choice.
Su has been a striker in the Chinese national team at the 2002 FIFA World Cup. After retirement, he has coached China National Under-20 Football Team and Qingdao Hainiu F.C. In Su's eyes, the youth training of Chinese football is on a right path, but it's still not enough. More youth games are needed. Besides, Su hopes that more talented children will be selected without considering short-term utilitarian purposes.
Here are excerpts of the dialogue.
China News Service: What have impressed you most during the 2002 FIFA World Cup?
Bora Milutinovic: A possible one is about the happiness day with our team defeated Oman in the last game (of the qualifier). I'm so happy for Chinese people from here for everybody in China. I remember the beautiful goal of Su against the ROK.
Su Maozhen: As Milu has mentioned, what impressed me most was the time when the game against Oman was over. We've fought our way out of Asia and onto the world stage! The stadium went wild, and so was our team. We even threw Milu up in the sky!
China News Service: What regrets do you want to make up if we go back to where we were 20 years ago?
Bora Milutinovic: I have no regret at all. All players have done their best. We have only two situations- with or without the ball. You need to know what you need to do. You need to train with intelligence. So we had a lot of good memories, which is great.
Su Maozhen: For a player, it is the greatest honor to play in the World Cup, so I'm pretty proud of my experience. But if we could win one game, then it would be perfect.
China News Service: Over the past 20 years, Chinese football has changed dramatically, and there's a saying that the competitiveness of Chinese players has been in decline from generations to generations. So what do you think of it?
Bora Milutinovic: I can speak only about my team. I have one excellent team. They have an excellent attitude, and they have the spirit. I am very happy to have the players and the public support it.
Su Maozhen: Our youth training is on a right path, but it's still not enough. The national teams of Vietnam, Thailand and Malaysia have been making progress, so we need to do more.
China News Service: How do you see the significance of youth training to Chinese football? And what are the problems?
Bora Milutinovic: Not long ago, I've visited a football school in Qingdao, and I've seen many children playing football. They're playing unexpectedly well, which impressed me a lot. Youth training must be systematic, and be guided under long-term plans. And coach also plays a key role. They need to know how to teach children under the guidance of youth train system.
Su Maozhen: I think the primary problem is player selection. I think children with skills, speed, and tactic awareness, rather than those who are tall and strong but not capable of reading games, should be selected. We need to choose talented children not to achieve short term profits, but to train more capable players in the future. In addition, more youth games are needed, because players can only get improved during games.
Currently, many youth training coaches aren't professional, so their coaching quality is uncertain. For outstanding youth training coaches, experience and patience are a must. They like to spend time with children, and they know how to get along well with them, teach them, and encourage them. Only then can techniques and tactics be imparted. Youth training coaches must be equipped with a lot of qualities, and even adult training coaches lack some of them.
China News Service: Vietnam, Thailand, Malaysia and other Asian teams that were not so strong in the past are growing with their strength that it's getting more and more difficult for Chinese national team to play against them. What do you think of this phenomenon?
Bora Milutinovic: You need to have an eye on the problem to see who is the good player. Yesterday, I was training two boys who are about 12 to 13 years old. They play very badly. So you need to have eyes to decide who is good and who is not good.
Su Maozhen: I coached China national under-20 football team back in 2009, and we had played against Vietnam and Malaysia. They were threats to us, but they weren't so strong back then. But we haven't made great progress in recent years, and something has gone wrong in the youth training system, so we must invest more in training young players.
China News Service: The AFC determined that there are 8.5 qualifying places for the 2026 World Cup Asian qualifiers. So is there a big opportunity for Chinese football?
Bora Milutinovic: It's not important how many countries there will be in the World Cup. Back then, China finished first in the group, without doubt the best qualification. Now I think you need to get prepared, and not to think of the opponents. And you need to prepare young players. They need to play so many important games and accumulate experience. I'm sure China will be in the 2026 FIFA World Cup in Mexico, Canada and the United States.
Su Maozhen: I think it's a big opportunity for us, but the competition will also be more and more fierce. Because it's also a big opportunity for not only traditional strong Asian teams including Japan, the ROK, and Iran, but other Asian teams such as Thailand, Vietnam, Jordan, and Syria.
China News Service: Now, the Chinese football staff have been viewed strictly. So how would you respond to such situation as players or coaches?
Bora Milutinovic: I think the criticizes from fans are getting softer. I remember so many times that the team didn't play well, the public just shouted "Milu Xia Ke (Dismiss Milu)". But what is important is to have confidence. You need to believe in your players, and you need to do what you need to do.
Su Maozhen: I think the public may be harsh on us, and sometimes lack some respect. But I understand it, because now the Chinese football can't get good grades. So we need to concentrate on increasing the strength of Chinese football by studying.
China News Service: When will the Chinese National Football Team get back to the World Cup again?
Bora Milutinovic: It will be in the 2026 FIFA World Cup in Mexico, Canada and the United States.
Su Maozhen: I agree. We both hope that China will make it on the next World Cup.