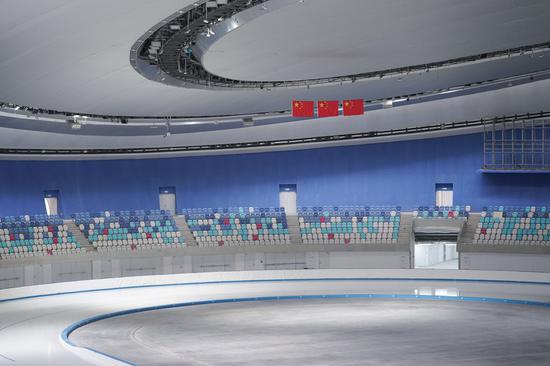 The ice-making work of National Speed Skating Hall, also known as the "Ice Ribbon", is completed for the first time on Jan. 22, 2021. (Xinhua/Ju Huanzong)
The ice-making work at the National Speed Skating Oval, also known as the "Ice Ribbon," was completed for the first time, making the iconic Beijing Winter Olympic venue ready for test competitions, the Beijing Major Projects Construction Headquarters Office announced on Friday.
During the Winter Olympics, the "Ice Ribbon" will host the speed skating competitions which offer 14 gold medals.
It is the world's first Winter Olympic venue using carbon dioxide transcritical direct cooling ice-making technology and will produce the largest ice surface in Asia with an area of 12,000 square meters. The temperature difference on the ice surface does not exceed 0.5 degrees centigrade which is beneficial for athletes to log good results.
The ice-making procedure was successfully completed by a joint endeavor of ice makers from home and abroad, with international staff brought in to ensure the quality of the ice surface and its meeting the competition standard of the Winter Olympic Games.
The venue can make ice according to the needs of different sports, regions, and standards. It can not only meet the requirements of the Winter Olympic speed skating competition but also make ice according to the needs of different winter sports.
After the competition, it can host more than 2,000 guests and host all kinds of winter sports such as ice hockey, speed skating, figure skating, and curling.
There are six competition venues in the Beijing competition zone of the 2022 Winter Games. At present, all of them have been completed and have entered the stage of ice- and snow-making. Ice has been completed in three of the venues, and the rest will be completed by the end of this month.