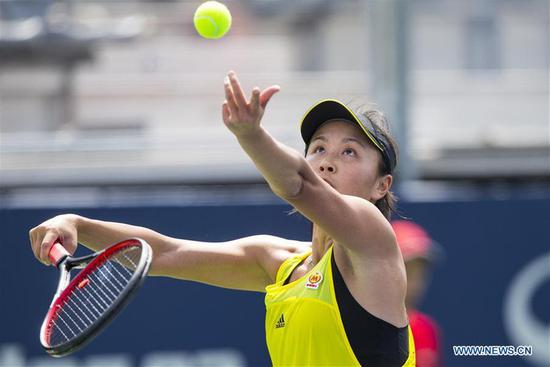 Peng Shuai of China serves to Ekaterina Makarova of Russia during their first round match of women's singles at the 2017 Rogers Cup in Toronto, Canada, Aug。 8, 2017. (Photo/Xinhua)
China's former world No 1 doubles star Peng Shuai was banned for six months and fined $10,000 on Wednesday for attempting to force her doubles partner to withdraw from Wimbledon in 2017, the Tennis Integrity Unit announced.
"Peng Shuai was found to have used coercion and offered the possibility of financial reward in return for her main-draw partner agreeing to withdraw from the ladies' doubles event at Wimbledon 2017," read a TIU statement.
"Although the offer was refused and Peng Shuai did not subsequently compete at The Championships, it constituted a breach of the Tennis Anti-Corruption Program."
Peng's attempt to change her doubles partner came after the sign-in deadline.
Peng, 32, was banned for six months, with three suspended, and fined $10,000, with $5,000 suspended, on condition that she commits no further breaches of the anti-corruption code.
She will be eligible to return to the court on Nov。 8.
"Today's decision imposes a six-month ban, with three months suspended, and $10,000 fine, with $5,000 suspended, on condition that no further breaches are committed," the TIU said.
"The suspension applies with immediate effect and means that the player cannot compete in or attend any event organized, sanctioned or recognized by the governing bodies of the sport."
The Chinese star is currently ranked No 20 in doubles and No 80 in singles. However, she was the No 1-ranked doubles player in February 2014 and reached a career-best singles ranking of No 14 in August 2011.
Peng has won two WTA singles titles in her career as well as two Grand Slam women's doubles crowns at Wimbledon in 2013 and Roland Garros in 2014, both alongside Chinese Taipei's Hsieh Su-wei.
The TIU also announced that Peng's former coach Bertrand Perret of France has been banned for three months for his role in the attempted corruption.