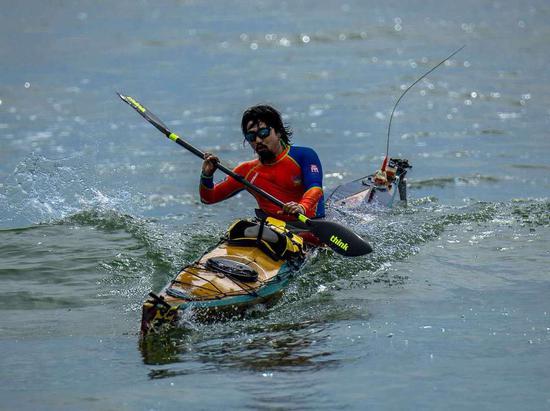 Tuo Junqing during the kayak trip along China's coastline. (Photo provided to chinadaily.com.cn)
On July 7, Tuo Junqing arrived safe and sound in Fangchenggang, Guangxi province. He came ashore in a self-made kayak, 299 days after his departure from Donggang, Liaoning province on Sept 11, 2017 - completing a trip along China's coastline.
He is the first person in China, if not the world, to complete such an epic journey all by himself.
During the trip, he spent about a month with his family in Shanghai during Spring Festival and took half a month to recover from jellyfish bites.
"Actually I spent 173 days on the sea, and the whole journey was 6574.57 kilometers," he said.
He explained that although China's coastline is 18,000 km, many believe that number has changed to around 14,000 km, because of artificial reclamation and other factors.