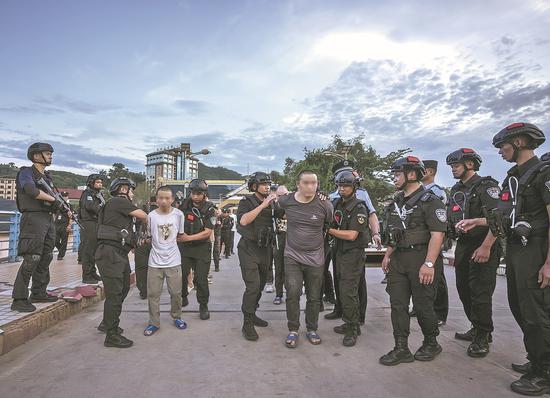 Fraud suspects are handed over to Chinese police in Pu'er, Yunnan, on Sept 6. (Photo/China Daily)
Law enforcement authorities in northern Myanmar have transferred 31,000 telecom fraud suspects to China to date, the Ministry of Public Security said on Tuesday.
Sixty-three were masterminds, organizers and key figures operating scam groups behind the scenes, and 1,531 were on wanted lists.
After their return to China, the suspects were sent to the jurisdictions targeted by their scams. The public security organs in those areas would thoroughly investigate their alleged illegal activities and punish them resolutely, the ministry said.
Since September, under the command of the Ministry of Public Security and the provincial public security department, public security organs in Xishuangbanna Dai autonomous prefecture, the cities of Pu'er and Lincang and other areas in Yunnan have collaborated with law enforcement agencies in Myanmar to conduct joint law enforcement operations along the border between the two countries. A large number of suspects involved in telecom fraud have been transferred to China.
To advance the crackdown, Chinese public security organs deepened law enforcement cooperation with the Myanmar side this month, the ministry said, with numerous overseas telecom fraud dens eradicated.
One operation led to the capture of three leaders of a telecom fraud group in northern Myanmar's Kokang region — Ming Guoping, Ming Julan and Ming Zhenzhen — who were listed as wanted by Chinese public security organs. The ringleader of the group, Ming Xuechang, committed suicide before Myanmar police could arrest him.
The public security organs in Yunnan's Dehong Dai and Jingpo autonomous prefecture made a significant breakthrough in border law enforcement cooperation on Saturday. Law enforcement agencies in the Muse area of northern Myanmar transferred 571 telecom fraud suspects to China, forming a powerful deterrent against fraudsters, the ministry said.
A ministry official said it would maintain high-pressure crackdowns on the telecom fraud groups in northern Myanmar and continuously deepen border law enforcement cooperation with Myanmar.
China's public security organs will continue to organize special crackdown operations to eliminate fraud dens and apprehend individuals involved in fraud, resolutely safeguarding the safety and legitimate rights and interests of the people and border security, the official said.