(ECNS)-- With the adjustment of China's pandemic prevention and control policies, the national economy is picking up momentum. Peter McIntyre, former director of Australia's National Centre for Immunization Research and Surveillance, lauded China's efforts in battling against COVID-19.
"China has done so well with developing vaccines, distributing vaccines both in China and the rest of the world,", said Prof. McIntyre. In his eyes, as a large country with a huge population, what China does is important to the rest of the world. He thinks what the world really has to rely on is high levels of vaccination which China has achieved and the challenge for China now is to ensure that effective anti-pandemic medicine and vaccines can reach the most vulnerable people.
He also praised the leadership China has shown in introducing inhaled vaccines, since not having to worry about needles could be a big advantage for giving booster doses in other countries as well.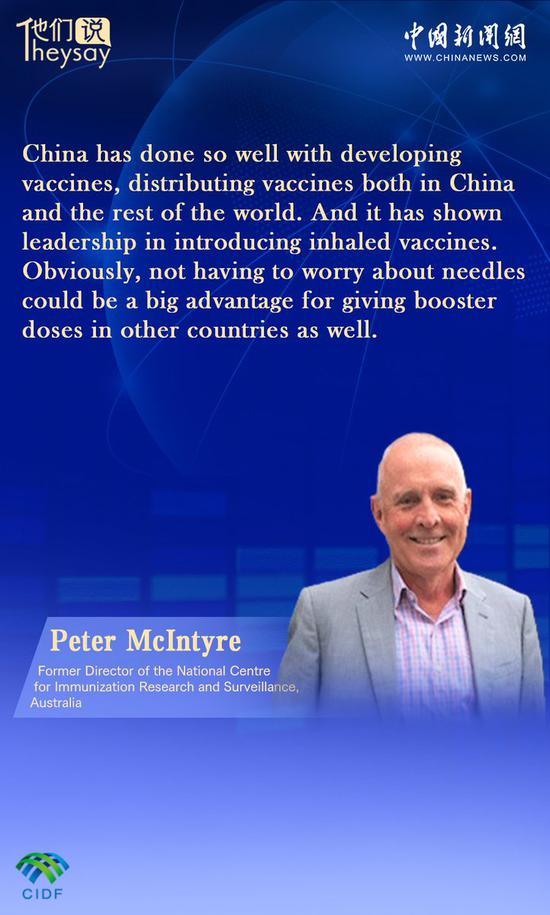 In January, WTO noted that COVID-19 remains a public health emergency of international concern and a dangerous infectious disease with the capacity to cause substantial damage to health and health systems.
McIntyre holds that the world is now in a transition when people have to hope that human beings will have learned from the experience with Covid how important corporation is. He pointed out that the world had not performed as well as some people would have hoped in terms of equitable distribution of vaccines.
After the arduous fight against the pandemic, humans have enormously wrapped up their capacity to develop and produce vaccines. So we should be in a position when another pandemic comes along, which inevitably will, whether it's a coronavirus or a flu virus or some other virus, perhaps one that we haven't even thought of as being a problem as yet, he said.
When that happens, the capacity to rapidly produce, identify and the targets and produce effective vaccines, and to be able to get those out to the people that need them, all of that capacity hopefully will be much better than it was this time, he added.