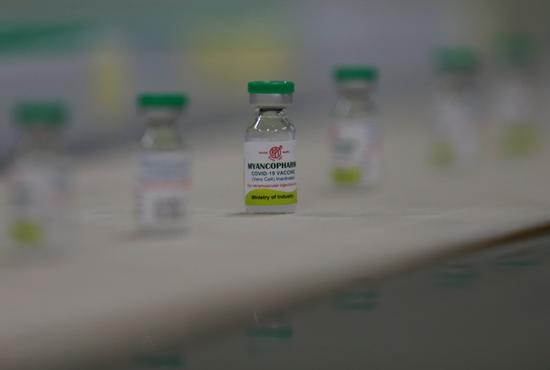 2022050661c797cb330645368a87dca7f2348741_e5a415f1-4f0d-4d20-a819-97632d9f911b
Special: Battle Against Novel Coronavirus
Myanmar has begun administering locally filled-and-packed doses of China's Sinopharm COVID-19 vaccines, locally known as the Myancopharm vaccines, according to the Ministry of Health on Thursday.
"The inoculation of Myancopharm COVID-19 vaccines has begun not only in Nay Pyi Taw and Yangon but also in other regions and states," Than Naing Soe, a director from the Ministry of Health, told Xinhua on Thursday.
Union Minister for Health Thet Khaing Win observed the administering of Myancopharm COVID-19 vaccines in Nay Pyi Taw on Wednesday.
Myanmar's Ministry of Industry, in collaboration with China National Biotec Group (CNBG), affiliated with Sinopharm, domestically packed and produced the Myancopharm COVID-19 vaccines.
The health ministry said it received a total of 1 million doses of the Myancopharm COVID-19 vaccine from the Ministry of Industry on April 29 and 30, and administered the vaccine doses to targeted groups of people.
According to the ministry's figures, more than 23.47 million people in the Southeast Asian country have been fully vaccinated against COVID-19 as of April 30.
Myanmar reported 27 new COVID-19 cases on Wednesday, bringing the total tally to 612,951.
The death toll from COVID-19 stands currently at 19,434, and 591,894 infected people in the country ha