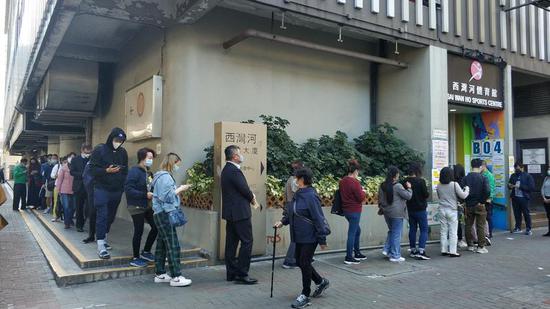 Residents line up to take their COVID-19 vaccine shot at the Sai Wan Ho Sports Centre in Sai Wan Ho, Hong Kong on Jan 4, 2022. (PHOTO PROVIDED TO CHINA DAILY)
Special: Battle Against Novel Coronavirus
Hong Kong Chief Executive Carrie Lam Cheng Yuet-ngor said Tuesday the overall vaccination rate is expected to exceed 80 percent before the start of the city's planned vaccine bubble on Feb 24.
About 20,000 people a day have been receiving their first dose of the vaccine, and the total number of people getting vaccinated is around 40,000 per day, said Lam ahead of the weekly Executive Council meeting.
Lam said more people are also willing to receive a third dose – known as a booster jab.
Lam noted an increase in the vaccination rate among the elderly, saying that 55 percent of people 70 to 79 years old have received the first dose, and 27 percent of those over 80.
It is likely that the overall vaccination rate will be over 80 percent, or even nearly 90 percent, before Feb 24, said Lam. She added that she believes the results are partly driven by the government's plan to reopen some premises and lift the ban on dine-in services after 6 pm in an early commencement of the "vaccine bubble" on Feb 4.
The vaccine bubble arrangement, scheduled to begin on Feb 24, will see unvaccinated people being barred from entering public spaces, such as libraries, eateries and campuses.
As for the possibility of city-wide virus testing, Lam said the government is not likely to conduct such testing and that no local experts have suggested it so far.
"In the past two years, Hong Kong has succeeded in fighting the pandemic while also allowing residents to conduct normal activities. Therefore, city-wide virus testing is not suitable for Hong Kong, and it may also not be accepted by the public," said Lam.
Instead, Hong Kong will continue to adopt large-scale testing targeting specific groups, said Lam.
It has proved to reduce the risk of virus transmission in the community more effectively, as 60 to 70 percent of the local Omicron confirmed cases were found in the quarantine centers, she added.