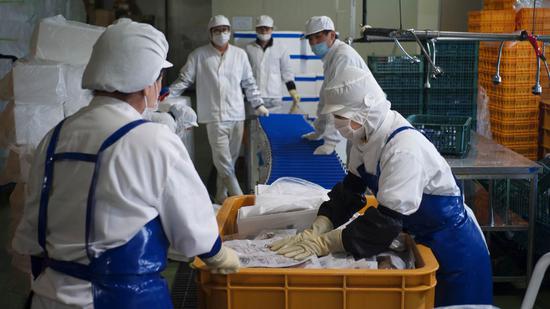 Workers at LK Seafood are packing ocean fish, in Gunsan, South Korea. (CGTN)
South Korean Jungh-wa's seafood packaging and distribution business was still in its infancy in 2011 when a tsunami caused a meltdown at Japan's Fukushima nuclear power station.
More than a dozen nations, including South Korea, banned imports of Japanese seafood, but the threat of regional contamination almost bankrupted her business.
"I also worried the water would be contaminated by radioactivity and that the seafood that lives in the water would be unsafe," admits Kang.
Japan took measures to contain the meltdown and piped the contaminated water used to cool the damaged reactor into storage tanks in the nuclear plant complex.
Over time, public trust in South Korean seafood was rebuilt and Kang expanded her business into one of the largest in the seaport town of Gunsan.
So, Kang said she was shocked by the news that Tokyo plans to dump more than 1.2 million tonnes of the water contaminated with radioactive tritium into the Pacific Ocean.
"Of course, there will be damage. Who will buy food that people avoid? And not only the manufacturing industry will be affected, but also the fishermen in the fishing industry will have a hard time. It's a matter of livelihood for them," said Kang.
Seafood industry workers have been demonstrating on land while hundreds of South Korean fishing boats have been taking to the seas to hold offshore fleet protests, in which the boats circle in formation.
Among fishing boats crews docked in Gunsan, the talk is of little other than the shockwaves through their own industry that the radioactive water might bring.
"It's already difficult, the whole situation," said a boat captain named Hwang Gyeon-gi.
"We're not going to eat that (seafood), even me, I won't eat that even if I catch it. Korea will be dead, especially for the fishermen, we will starve," added crew member Kim Jeong-yeon.
The nuclear polluted water is expected to be released in about two years, while scientists say it will take roughly 280 days for it to reach the coastal waters of the South Korean mainland.
"It's just their thinking," said a clearly skeptical Kim, adding "for us who work on the ocean, we think it will come in about five to six months for sure."
Seoul had lobbied hard to stop the release, alleging that Tokyo has not been transparent about its plans or the alleged danger posed by the contaminated water.
Now that Japan says it is going ahead with the release, South Korea wants to be part of the United Nations' International Atomic Energy Agency (IAEA) team that would oversee the release.
The IAEA says the water, that Japanese technicians plan to dilute, is safe.
The United States and France, both having sizeable nuclear power industries, have backed Tokyo.
That has not eased wider concerns, especially among countries in the region. China slams Japan's decision as "extremely irresponsible," which doesn't only affect Japan but will also seriously damage international public health and the interests of people in neighboring countries.
Kang is among the majority of South Koreans who want their government, as well as others, to continue lobbying Japan to find an alternative solution.
"We are very close to Japan. We will be the first country to be affected, but this will be a worldwide problem. So, all the world organizations should get involved in this situation," she said.