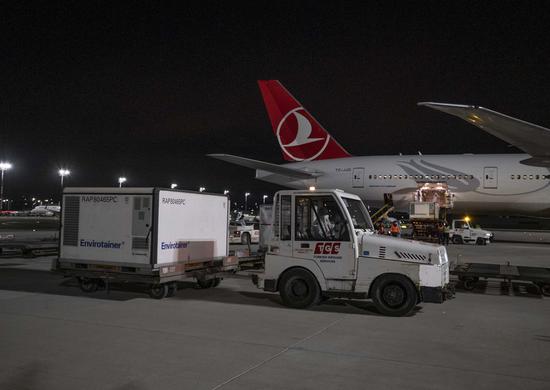 Workers unload a shipment containing boxes of China's Sinovac COVID-19 vaccines at Istanbul Airport in Istanbul, Turkey, Jan. 25, 2021. (Xinhua/Osman Orsal)
Special: Battle Against Novel Coronavirus
Turkey received on Monday 6.5 million more doses of COVID-19 vaccines produced by the Chinese biopharmaceutical company Sinovac.
A Turkish Airlines cargo plane loaded with the vaccines landed at Istanbul Airport early in the morning from China's capital Beijing.
After the completion of the customs clearance formalities at the airport, the vaccines were transferred to several warehouses in Istanbul for the necessary security tests, a health ministry official told Xinhua.
The official said the tests will last 14 days, and then the vaccines will be distributed to 81 provinces of the country to be used in the vaccination program.
The latest shipment was part of a second planned consignment of 10 million doses, Turkish Health Minister Fahrettin Koca announced on Sunday. He noted in a tweet that the rest would be delivered in a way that the mass inoculation program would continue uninterrupted in the country.
Turkey launched the mass vaccine campaign on Jan. 14 after receiving the first batch of 3 million doses of COVID-19 vaccines from China at the end of December 2020.
Nurettin Yiyit, chief physician of the Feriha Oz Emergency Hospital in Istanbul, said the speed of vaccine delivery would determine the pace of the vaccination program in the country.
"If the vaccines arrive on time as planned without interruption, our vaccination infrastructure is ready for that," Yiyit told Xinhua at the hospital which was built in 2020 to treat specifically COVID-19 patients.
"If we use our maximum capacity, we are in a position to vaccinate (people) in our country in a short period of time, as long as one month," he said.
The chief physician also pointed out that the Turkish healthcare professionals always express their confidence in inactive vaccines like the Sinovac's shots at every opportunity.
"There are no serious side effects reported so far," he noted, adding this factor increases the trust of the citizens in the vaccination.
According to the health ministry's data, more than 1.25 million Turkish citizens have been vaccinated so far, and the program is going on as planned.