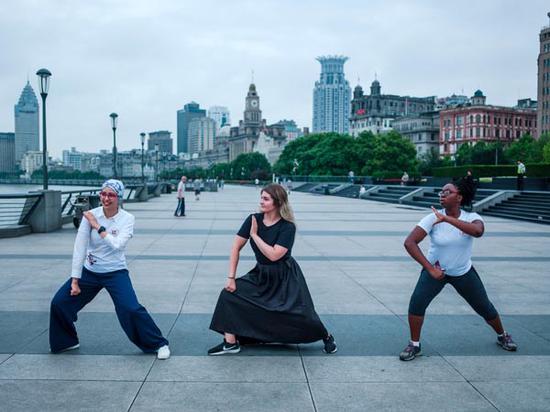 Expats practice tai chi for morning exercise on the Bund in the summer of 2019. (PHOTO BY GAO ERQIANG/CHINA DAILY)
Foreign residents share their views about how Shanghai has turned out better than they previously expected.
Foreigners regard Shanghai as an international metropolis with a large number of cultural institutions and events, according to a survey published on Nov 27.
Conducted by the China Institute for Urban Governance of Shanghai Jiao Tong University, the survey polled 436 international students and travelers at Pudong International Airport as well as foreign residents in the city.
More than 97 percent of the participants view Shanghai as an international cultural metropolis. In their words, the city is "modern", "welcoming" and "diverse".
"People are polite and cultivated. They like to talk and have social interactions... I enjoy talks with taxi drivers about food. The first meal I learned to cook was hongshaorou (red braised pork)," says Cyrille
Champagne, a French businessman who traveled to Shanghai for the first time in 2004.
"I imagined the city to be like New York... with the Bund, like in an old postcard," recalls Champagne during his bus trip from Pudong airport to the city center.
As most of the foreigners polled had learned about Shanghai before their visit, 95 percent of them said the city lives up to or exceeds their expectations, while 61.2 percent think that Shanghai is much better than what they imagined it to be.
The survey also found most respondents learned about Shanghai online, and the longer people live in Shanghai, the more positively they think of the city.
Bahar Jena Vossoughi says that her initial impression of the city was one filled with temples, local markets and people dressed in traditional attire.
"Arriving to Shanghai, I was more than surprised to see how the city is modern and extremely well-developed. Shanghai is a vibrant city and is an amazing place where East and West can meet in peace, go together and coexist," says Vossoughi, who moved to the city in 2019.