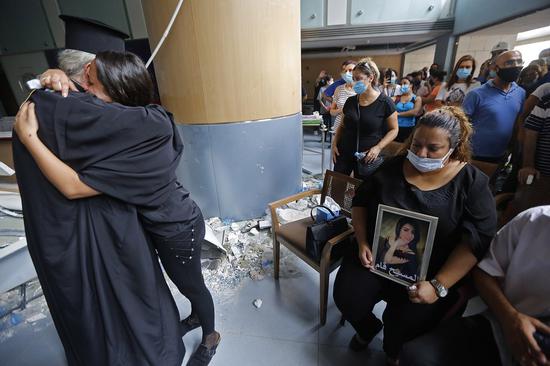 People mourn for a victim of explosions in a hospital in Beirut, Lebanon, on Aug. 6, 2020. (Xinhua/Bilal Jawich)
The number of Filipinos killed in the Beirut explosions rose to four, the Philippines' Department of Foreign Affairs (DFA) said on Friday.
The country's Foreign Undersecretary Sarah Lou Arriola said that the Philippine Embassy to Beirut has also documented a total of 31 Filipinos who were injured while one remains missing.
Quoting Philippine Embassy Beirut Charge d'affaires Ajeet Panemanglor, she said that two of the 31 injured Filipinos "remain in critical condition."
"Our Embassy officials shall continue to ascertain the condition of our community in Beirut," Arriola said.
The DFA earlier reported that the missing 11 seafarers that jumped off the ship docked some 400 meters away from the blast zone have all been accounted for.
The DFA said there are a total of 31,916 overseas Filipino workers (OFWs) in Lebanon so far. There used to be 33,424 OFWs in December 2019 but many of them have been repatriated.
According to Arriola, majority of the Filipinos in Lebanon work as household service workers.
The Philippines has an ongoing repatriation of OFWs not only in Lebanon but also in many countries affected by the COVID-19 pandemic.
The DFA said more than 120,000 overseas Filipino workers, both sea-based and land-based, have been repatriated since February due to the pandemic. Around 100,000 more displaced OFWs are waiting to be repatriated in the coming weeks, it added.