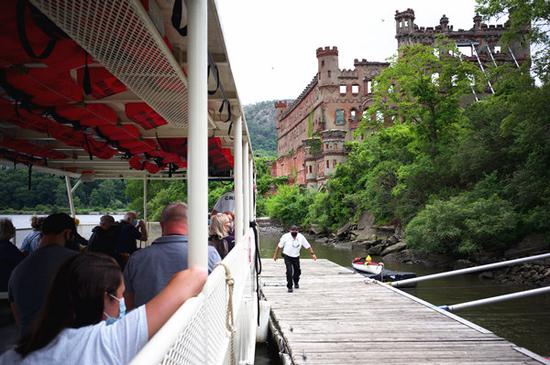 People wait to get off a boat to Bannerman's Castle, which stands tall on Pollepel Island in the Hudson River, in New York State, U.S, July 16, 2020. (Photo: China News Service / Wang Fan)
New York City entered phase 4 of reopening on Monday, without resuming additional indoor activities.
In the final phase of New York state's reopening plan, lower risk outdoor arts and entertainment activities, such as television and film production, can resume. Botanical gardens and zoos can reopen at 33 percent capacity, according to the state and city governments.
The Liberty Island, where the Statue of Liberty is located, became open on Monday, while the interior of the statue and the museum remain closed to the public.
Professional sports can now play without fans. The U.S. Open tennis tournament will kick off in Queens borough of New York City as scheduled in late August with the spectator seats empty.
Unlike other phase 4 regions in the state, indoor entertainment and cultural venues such as malls and museums remain shut in New York City due to the heightened risk of infection indoors that occurred in many other states.
The resumption of indoor dining has also been postponed, and the city launched the Open Restaurants program earlier this month, allowing restaurants to serve customers on the city's Open Streets with no access to vehicles during weekends.
By Monday afternoon, New York City has reported 218,478 COVID-19 cases, with a death toll of 23,411, according to the city's health department.
In New York State, more scenic spots have reopened to the public, with a reservation system and limited capacity to accommodate social distancing.
Bannerman's Castle, which stands tall on Pollepel Island in the Hudson River, is an example, and tours to the historic site quickly sold out.
Some tourist locations in the state have even put cutting-edge technology into place, such as the new guest system app at Maggazzino Italian Art in Cold Spring, which can detect when patrons are too close to one another.