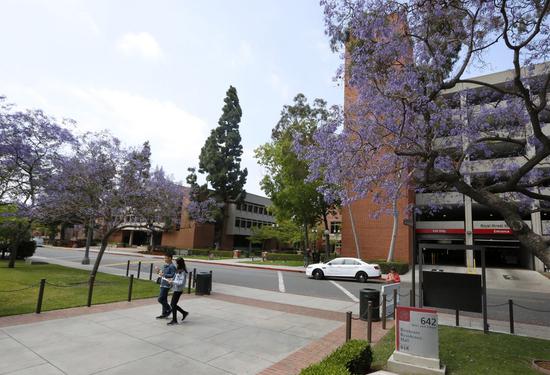 Two Chinese students walk on the campus of the University of Southern California in Los Angeles, California, the United States, June 3, 2019. (Xinhua/Li Ying)
Special: Battle Against Novel Coronavirus
California will be the first state to sue the Trump administration over new rules that will bar international students taking online courses from staying in the U.S., state Attorney General Xavier Becerra announced Thursday afternoon.
"This Trump administration policy turns our universities into hotspots of the disease. This policy is just unlawful, it's dangerous and it's morally reprehensible," Becerra said during a virtual news conference. He was accompanied by representatives from California Community Colleges and California State University.
On Monday, U.S. Immigration and Customs Enforcement (ICE) announced that it will not permit international students on F-1 visas to take a full online course load in the fall while studying in the United States. The final version of the rule will be published later this month.
Under the order, international students will have to leave the country or take other measures such as "transferring to a school with in-person instruction to remain in lawful status," ICE said in a statement.
On Wednesday, Harvard University and the Massachusetts Institute of Technology (MIT) jointly filed a lawsuit against the Trump administration over the new regulation. Harvard has already announced plans to move all coursework in the fall semester online amid the ongoing coronavirus pandemic.