XIUSHUI COUNTY
In 2012, when Xu Na, from Xiushui County of Jiangxi, was just six years old, her mother was diagnosed with uremia, and her medical expenses cost all the family's savings.
The originally well-off family of four could only live in a small space with a monthly rent of 200 yuan in 2014 when Xinhua reporters first visited them.
To help reduce the financial burden, Xu, who was just 1.2 meters tall and weighed less than 20 kg, began to learn how to cook and wash clothes while taking care of her 3-year-old sister. Photos of her standing on a chair to cook moved many people across the country.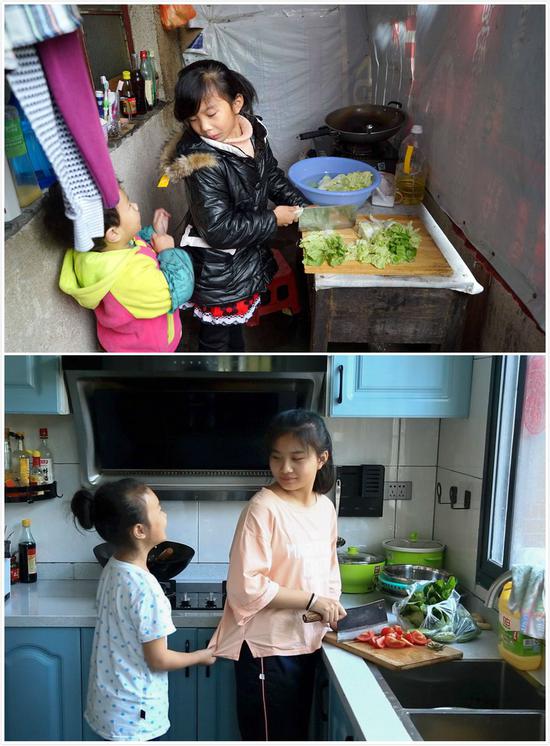 This combo photo taken respectively on Nov. 29, 2014 and on May 19, 2020 shows Xu Na (R) making food with her younger sister by side in their old house (up, taken by Chen Zixia) and new house (down, taken by Zhou Mi) in Xiushui County, east China's Jiangxi Province. (Xinhua)
When Xinhua reporters revisited them this year, the family had moved to a 100-square-meter new house thanks to the poverty alleviation relocation policy in inhospitable areas.
"We now have our own house, and my father works as a chef at a local restaurant," said Xu. "I believe life will get better and better."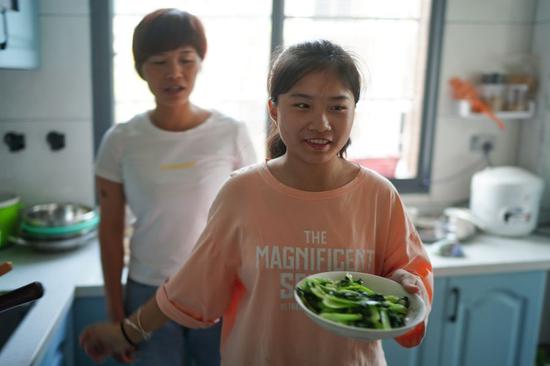 Xu Na (R) passes a dish she made for her mother and younger sister at home in Xiushui County, east China's Jiangxi Province, May 19, 2020. (Xinhua/Zhou Mi)
Across China, more than 9.6 million poor people have been relocated to more habitable areas over the past several years, getting access to more job opportunities and better public services.
Around 5.51 million people remained impoverished at the end of 2019, but China intends to lift them from poverty by the end of this year. The total number of people emerging out of poverty will have reached 100 million since the 18th CPC National Congress in 2012.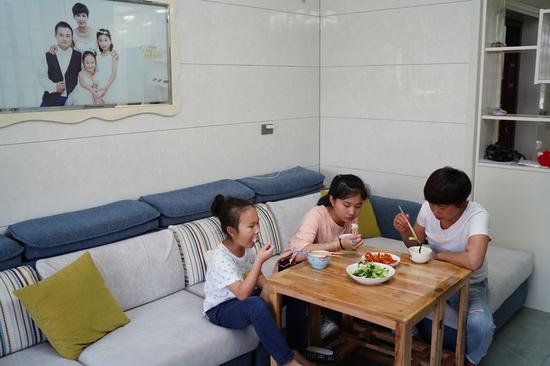 Xu Na (C) has lunch with her younger sister (L) and their mother in their new house in Xiushui County, east China's Jiangxi Province, May 19, 2020. (Xinhua/Zhou Mi)