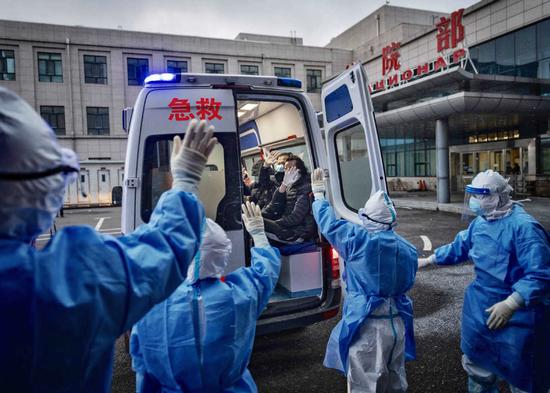 Members of the first group of imported COVID-19 patients diagnosed at Suifenhe port in Northeast China's Heilongjiang province who were cured and discharged from the hospital on April 21, 2020 wave goodbye to medics. (Photo by Pan Songgang/For chinadaily.com.cn)
Special: Battle Against Novel Coronavirus
With special permits and scanned health codes, residents of Suifenhe, Heilongjiang province, no longer have to live under strict lockdown, said a statement issued by the city's COVID-19 epidemic control department on Wednesday.
Wearing face masks and undergoing temperature checks remain mandatory, the statement said.
Since April 8, all residential communities in Suifenhe had been locked down and each family could send one member outside for purchases every three days.
But Suifenhe city and Nangang district in Harbin have been categorized as low-risk regions for COVID-19 epidemic control, the provincial government said in a statement Wednesday.
With the alert in the last medium-risk region, Linkou county in Mudanjiang, set to be downgraded on Thursday, all 125 counties and county-level districts in the province will be categorized as low-risk areas.
As of Tuesday, the province had reported 386 imported confirmed COVID-19 cases, and 261 patients had recovered and were discharged from hospital, according to the Heilongjiang Health Commission.
All the cases involved Chinese citizens and 380 of them entered the mainland via the highway port of entry in Suifenhe from Russia. Suifenhe reported its first imported case on March 26.
Nearly 2,500 people entered China via Suifenhe from March 21 to April 7, when the city's highway port of entry was temporarily closed.
The local government took strict pandemic-control measures by placing all the returnees in quarantine and giving them coronavirus tests.
As of Wednesday, all had completed quarantine, according to People's Daily.
The highway port of entry in Suifenhe will remain temporarily closed, said a statement on the website of the Chinese consul-general in Vladivostok on Wednesday,.
The consul-general urged all Chinese citizens in Russia to avoid entering the Chinese mainland via Suifenhe.
Businesses in the city are expected to take the temperature of all customers and ensure they wear masks. They must sterilize their premises daily and ensure rooms have good air circulation, the city's statement said.
Wang Jian, a trader of Russian food since 2008, has a store in Suifenhe, where she mainly deals with wholesale business.
"I am so excited to get the news that business will resume," she said. "My store has been closed since the end of January, and business has been greatly affected, especially since the increase in imported cases was reported. Some of my wholesale customers canceled their orders out of fear that transported goods could carry the virus."
"What's more, I couldn't receive customers in my store," she added. "I could only sell goods via WeChat and some food delivery platforms. My income dropped by more than 50 percent."
The province reported no new local or imported cases on Wednesday.
As of Tuesday, the province had a total of 48 locally transmitted and 19 local asymptomatic cases.