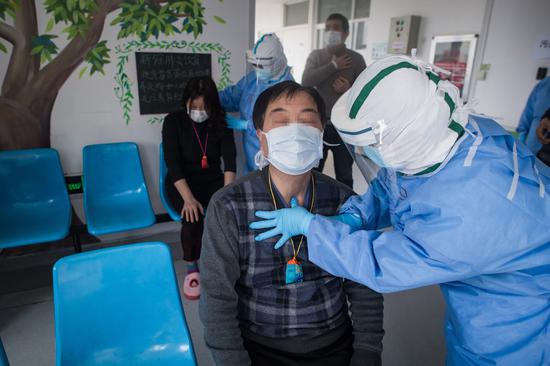 A medical worker teaches a patient who contracted the novel coronavirus pneumonia to do acupressure massage to help him recover at the Wuhan pulmonary hospital in Wuhan, Hubei province, March 19, 2020. (Photo/Xinhua)
Special: Battle Against Novel Coronavirus
Country will publish number of stealth virus carriers starting from Wednesday
China has 1,541 people with asymptomatic novel coronavirus infections under medical observation as of Monday, including 205 from overseas, the National Health Commission said on Tuesday.
It added that infected individuals who show no symptoms are still infectious and have caused sporadic clusters of cases.
Starting on Wednesday, China will publish the number and conditions of asymptomatic people due to heightened concerns over the risks posed by these stealth virus carriers, who were excluded from the official tally of confirmed cases, Chang Jile, head of the commission's disease control bureau, said on Tuesday.
As the country steps up screening and quarantine of symptom-free patients, health authorities are also rushing to take samples in areas severely affected by the virus for epidemiologic research on asymptomatic cases in a bid to improve its overall disease control measures, he added.
"Monitoring data has shown that some asymptomatic people have caused second-generation transmission among their close contacts, and they have set off a small number of clusters of infections," Chang said.
Limited studies suggest that the viral loads in the respiratory samples of asymptomatic patients-a key metric of an infected person's transmission capability-do not demonstrate distinct differences from those of confirmed cases, Chang added.
Based on available research, asymptomatic people are believed to be contagious, but more research is needed to understand the length of their contagion period as well as the strength and pathway of their transmission, according to a statement published on the commission's website on Tuesday.
"Some experts believed that because asymptomatic people show no symptoms of coughing or sneezing, the chance of them spreading the virus is relatively small compared to confirmed patients," the statement said.
The commission also noted that it is difficult to detect asymptomatic cases and prevent them from spreading the virus as a result of missing telltale signs of the disease and limits in testing.
"It is infeasible to make the discovery and isolation of asymptomatic cases as the dominating virus-control measure, so we will continue to focus on confirmed cases and their close contacts," the commission said, adding that past experience shows that such a strategy, coupled with keeping social distance, are effective in blocking the spread of the virus.
Since the domestic novel coronavirus epidemic has abated under aggressive containment measures, public appeals for releasing more information on asymptomatic people and tightening control over them have been running high.
During a meeting on Monday, the central leading group for epidemic control headed by Premier Li Keqiang also emphasized the monitoring and managing of asymptomatic infections and their close contacts.
Chang said local health authorities are required to report asymptomatic cases within two hours of detection and finish epidemiological research and registration of those who have come into contact with them within 24 hours. The swift response is consistent with the handling of confirmed infections.
Both asymptomatic cases and their close contacts will be quarantined in centralized facilities for 14 days. The asymptomatic won't be released until they test negative for the virus twice, he added.
"The commission has always attached great importance to asymptomatic infections and taken strict measures to cope with such cases and their close contacts," he said.