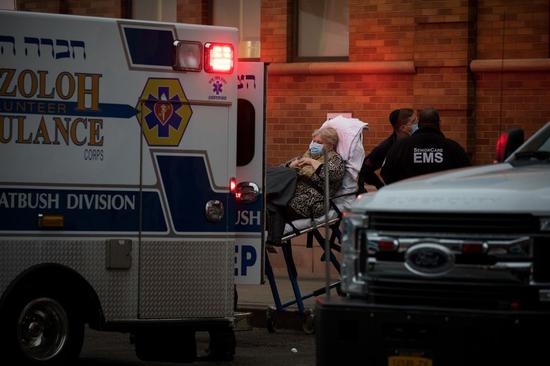 Medical workers move a patient from the ambulance at Maimonides Medical Center in Brooklyn of New York, the United States, March 28, 2020. (Photo by Michael Nagle/Xinhua)
Special: Battle Against Novel Coronavirus
U.S. deaths from the novel coronavirus outbreak could go as high as 200,000 amid "millions" of infections, a leading government health expert said Sunday.
Dr Anthony Fauci, director of the National Institute of Allergy and Infectious Diseases, when asked on CNN to predict the potential impact of COVID-19, answered that with "what we're seeing now, you know, I would say between 100 (,000) and 200,000. But I don't want to be held to that … I mean, we're going to have millions of cases."
According to the latest figures Sunday from the Centers for Disease Control and Prevention (CDC), the U.S. had 122,653 coronavirus cases resulting in 2,112 deaths.
In the 24 hours before Fauci, a key member of the White House Coronavirus Task Force, delivered his dire prediction, President Donald Trump backed away from his proposed quarantine of the three states surrounding the U.S. epicenter of New York City: New York, New Jersey and Connecticut.
Critics promptly called the idea unworkable, saying it would cause chaos in a region that serves as the economic engine of the eastern United States, accounting for 10 percent of the population and 12 percent of GDP.
"If you started walling off areas all across the country, it would be totally bizarre, counterproductive, anti-American, antisocial," New York Governor Andrew Cuomo said on CNN, also calling it "a declaration of war on states."
Trump backtracked on the idea, saying on Twitter that "a quarantine will not be necessary."
Instead, the CDC issued a "strong advisory" Saturday night asking residents of the three states to "refrain from nonessential domestic travel for 14 days effective immediately".
The three states account for about half of all coronavirus cases and deaths in the U.S.. The advisory exempts workers involved in several "critical" sectors, including food, transportation, healthcare and finance.
"The fact of the matter is, people really aren't traveling a whole lot," New Jersey Governor Phil Murphy told ABC News on Sunday. "A travel warning we're fine with."
But even as political leaders grappled with finding the right policy choices, the nation's hospitals struggled to meet their supply and manpower needs.
"We have nurses wearing the same mask from the beginning of their shift until the end, masks that are supposed to be for one patient at one point in your shift. We need some assistance, and we're going to need thousands of ventilators," Michigan Governor Gretchen Whitmer said on CNN.
New York Mayor Bill de Blasio said Sunday that the city has only a one-week supply of medical supplies as the number of cases in the city crossed 34,000, about half the total in New York state.
"We have enough supplies to get to a week from today, with the exception of ventilators; we're going to need at least several hundred more ventilators very quickly," the mayor said on CNN. "We are going to need a reinforcement."
A planeload of medical supplies arrived in New York from China on Sunday, the first in a series of flights over the next 30 days organized by the White House, a White House official said.