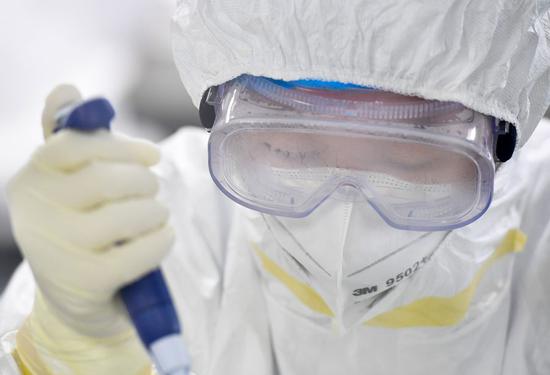 Medical worker Feng Limin's goggles are blurred after long-time work at the Diagnostics Virology and Transformation Center of the Guangzhou KingMed Diagnostics Group Co., Ltd. in Guangzhou, south China's Guangdong Province, Feb. 18, 2020. (Xinhua/Liu Dawei)
Special: Battle Against Novel Coronavirus
There have been much concern and misinformation about COVID-19. While some got over-panicked, some others conflated it with seasonal flu, downplaying the severity of the virus.
In an interview with Fox News host Sean Hannity on Wednesday night, U.S. President Donald Trump referred to the novel coronavirus as "corona flu." During a news conference last week, he claimed that coronavirus "is like a flu."
Is COVID-19 really like seasonal flu? And how should we tell one from the other?
First, the causes of COVID-19 and seasonal flu are different despite similar symptoms that infected patients might share, according to the World Health Organization (WHO).
COVID-19 is caused by a novel coronavirus, while seasonal flu is caused by influenza viruses. Since people with COVID-19 infection and flu both develop respiratory symptoms such as fever, cough and a runny nose, further laboratory tests are required to confirm, said the WHO.
Second, COVID-19 causes more severe disease than seasonal flu, which means the fatality rates of COVID-19 and flu are different, according to WHO Director-General Tedros Adhanom Ghebreyesus.
Globally, about 3.4 percent of reported COVID-19 patients have died. By comparison, seasonal flu generally kills far fewer than 1 percent of those infected, Tedros said at a media briefing on Tuesday.
Third, there is no vaccine and no specific treatment for COVID-19, while vaccines and therapeutics are available for seasonal flu.
Clinical trials of therapeutics for COVID-19 are now being conducted, and more than 20 vaccines are in development, Tedros said at the briefing.
Despite all these differences between COVID-19 and seasonal flu, the WHO chief has emphasized that "COVID-19 can be contained -- which is why we must do everything we can to contain it. That's why WHO recommends a comprehensive approach."